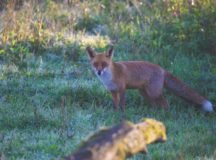 DPW Robinson Barracks Installation Coordinator
Recently, residents of Robinson Barracks reported seeing a fox in the area of Building 170.
The RB Installation Coordinator reported the sighting to the Directorate of Public Works Environmental Division, who then contacted the Local Forstmeister.
The DPW Environmental Division advised the following safety precautions and a few general instructions for residents who may see a wild animal on-post:
Keep all food sources closed (dumpsters)
Keep away from wild animals
Don't try to touch, to catch or to chase away the wild animals
Don't come in contact with wild animal excrements
Contact the Service Order Desk during normal operation hours, from 7:30 a.m. to 4 p.m., at 0711-729-6200 to report wild animals or pests on-post to DPW Environmental.