NCO JournalIt's difficult to fathom the unbridled stamina required to be a full-time Department of Defense civilian employee, a college professor, a motivational speaker, an author and a marathon runner. But it comes easy to Gregory Q. Cheek.
That's because the retired Soldier — and cancer survivor — considers every day a gift. He has been determined to get the most out of every sunrise since he received the grim news six years ago that Stage 3 cancer in his head and neck would likely cut his life short.
"When you don't think you're going to be here in a week or a month or a year, you can look at life differently," Cheek said during a recent video interview from Stuttgart, Germany, where he works as a stability plans specialist for U.S. Army Europe. "Every day is an opportunity. I tell people to take advantage of every opportunity they have. I've been doing that every day since May 10, 2010."
That was the day Cheek learned a lymph node in his neck was "hot." Surgery and treatment for the cancer that reached his lymphatic system followed. It was an agonizing ordeal, one that after a mere two weeks left Cheek a crumpled heap on the floor of his hospital bathroom. His throat was nearly swollen shut, his already thin frame became excessively gaunt and he could barely muster the strength to lift his head over the rim of the toilet to vomit. But he had an epiphany while his face lay mashed into the cold porcelain — he had lived the life he wanted.
"It really hit me when I was laying on the floor," said Cheek, who retired from the Army in 2005. "I was, like, 'Man, I've never worked a job in my life. Life is just one big opportunity.' I was laying there, and cancer was trying to take my life right out from underneath my feet. From that point forward I really looked at everything different. I just said, 'I'm going to be grateful for every single day.'"
He has lived that mantra ever since. Cheek chronicled his journey from cancer survivor to budding motivational speaking star in his book, "Three Points of Contact." It is not so much a blow-by-blow account of his ordeal through cancer. It is a road map to navigate arduous situations in life. As Cheek puts it, you're always "entering, in the middle of, or leaving some kind of storm." The book, which was released July 2015, outlines the 12.5-step strategy that Cheek says he has used throughout his life. And he believes young Soldiers can benefit highly from it.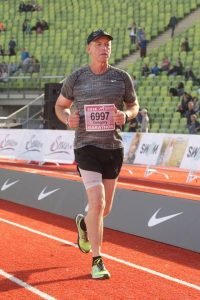 That's why he started a speaking business — something he said was a lifelong dream — and has become a regular visitor to NCO academies. Cheek said he enjoys talking to Soldiers and the conclusion of the weeks-long NCOA is the perfect time to reach out to them.
"I was a young NCO," said Cheek, who was an enlisted member of the Air Force for four years. "I think my story resonates really well with the NCO Corps. Especially for the young specialist E-4, who is getting ready to be a sergeant E-5, who is trying to make a decision: 'Am I going to do this for a career, do this for the rest of my life?' The NCO academy is just a perfect time because I come in and I'm, like, 'Look, you're away from your family, you're getting pumped with all this NCO stuff at this school, but let me tell you some of the advantages of being in the military.' They hear it from someone who is now a little older and can look back."
One of those young Soldiers is Spc. Nickie John Cate. Cate is a 68E dental specialist stationed at the Vilseck Army Health Clinic in Vilseck, Germany. He heard Cheek speak after he completed the Basic Leader Course in March. Cate, who said he joined the Army in part because he wanted a way to pay for dental school without financially burdening his parents, said he was moved by Cheek's story because it underscored to him that his future is in his own hands.
"He has been through ups and downs," Cate said of Cheek. "But he came to a realization that this is not the end. He is here to motivate people to find a way to improve themselves and to take opportunities that are open. My personal takeaway from his speech is that I must decide to take a leap to whichever goals or dreams I want. In his book, one of the chapters states that writing personal goals every morning will help you step-by-step to getting you where you want to be."
As it is in his book, Cheek doesn't focus on his battle with cancer during his talks. Rather, he tries to impart young Soldiers with his renewed appreciation for the time left ahead of them. He asks them to consider the opportunities afforded to them as service members and urges them to take advantage of what they have access to.
"Even if you decide to stay in to be command sergeant major, you're still going to have 20-something years to go do something else with your life," Cheek said. "So use all of this time as an opportunity, to network, to go to school, to meet different people, to get different skill training, to travel, to do all those things. It's a big time for them to have the opportunity to make a decision. But it's also good to hear it from somebody else on the other side. I've had this experience in my life and I can kind of share in retrospect the things to be thankful for. I've enjoyed that."
NCOs have enjoyed his lessons in turn, according to leadership of the 7th Army Noncommissioned Officer Academy of U.S. Army Europe's Joint Multinational Training Command in Grafenwoehr, Germany. The academy has instituted a professional development initiative in which staff duty NCOs read Cheek's book and notate lessons in the nightly log. The wisdom gleaned from those pages has had great effect on those NCOs pulling duty, said 1st Sgt. Eric D. Lowery, deputy commandant of the 7th Army NCOA.
"We have our staff duty NCOs read one or two chapters during their shift then write their assessment/thoughts on the chapters they read," Lowery said. "The comments are amazing. I truly believe that this book has inspired a lot of our staff sergeants and sergeants first class who have read a few chapters during their tour of duty."
Cheek said he enjoys speaking to Soldiers so much that he makes the trips to various NCOAs out of his own pocket.
"I don't get a dime," he said.
Cheek said he speaks to Soldiers as regularly as he can as a form of gratitude for all the military has done for him. He said he was a wayward youth, oblivious to the opportunities that existed all around him. He left home while a senior in high school and was homeless for a time until he decided to enlist in the Air Force. Cheek accomplished that, he said, by sleeping in front of the door of the recruiting office daily until a recruiter finally acquiesced and helped him enter the service.
Cheek's first assignment was in Turkey. Being overseas was an eye-opening experience.
"I was 18 years old," Cheek said. "I realized that I really did have all these opportunities back home that I was just letting go by."
Cheek completed his four years in the Air Force and returned home determined to attend college armed with a message that, to this day, he shares during his speeches — "Act on life. Or life will act on you."
Cheek earned his two-year degree from Shasta College in Redding, California, before moving on to California State University, Chico where he earned his bachelor's degree in 1989. He entered the Army the same year as an officer. During his career, which along with deployments to the Middle East included stops at Joint Base San Antonio-Fort Sam Houston, Texas; Fort Carson, Colorado; and the National Training Center at Fort Irwin, California, among other stops, Cheek earned his master's degree from the University of Northern Colorado. While at Fort Irwin, he began teaching part-time at nearby Barstow College, a position he has since returned to as an online professor. Cheek said reaching his educational and professional goals while serving was a grand accomplishment that was made possible by the Army. But it wasn't the last time he would be rewarded for his service.
By chance, Cheek was diagnosed with cancer about a month before he was scheduled to take part in the Master Resilience Training Course. The course, taught in Pennsylvania, is one of the foundational pillars of the Comprehensive Soldier Fitness program and centers on concepts in the field of positive psychology.
"After I was diagnosed, it really is a form of PTSD (post-traumatic stress disorder)," Cheek said. "So, I went to the course and it really helped me get ready for what I was going to go through. I had to have surgery and 13 lymph nodes taken out. Having been through the resiliency training was huge. All the simple things like being positive, visualization, eating right, meditation, exercise, all that kind of stuff that we talk about in that course that they provide for our Soldiers was huge. If I didn't have that course that soon after was diagnosed, I don't know what would've happened. So, I'm grateful for that."
The notion of gratitude is one that Cheek cherishes. He says its power can help people who are going through tough times. It's what spurred him to become a positive force for others. After his cancer treatment, Cheek wrote three thank-you cards. One went to his lead doctor, a second to his nurse. The third went to the receptionist at the medical office he frequented in Kansas City.
Cheek had gotten to know more about the woman during his visits. She was a single mother who was working two jobs. Cheek said she expressed her desire to go to college. In the thank-you note he crafted for her, Cheek mentioned the tenacity and resilience he noticed in her during their meetings and how she could use it to live out her dreams. According to Cheek, the woman was in tears reading his note as he exited the office.
"I knew I changed somebody's life," Cheek said. "I could have gotten in a car accident right then. I could've died the next day. But I knew I changed somebody's life. The last couple months I just felt like cancer was beating me down, I was losing weight, I was tired, coughing up blood. That feeling I got inside, it was that moment that I felt cancer kind of stop."
The woman eventually got her degree from the University of Kansas, affirming Cheek's conviction to be an uplifting force for others. He started his business, which has taken him to 20 countries and has given him an audience of big names from the world of sports and industry. He took up running, finishing seven marathons during the past decade. He wrote his book, a tribute to his medical team who urged him to write it after making it to the three-year checkup he was never supposed to see. Cheek has seemingly never stopped moving since fighting what he calls, "the biggest fight of his life." He says he keeps up his blistering pace because wherever he goes he wants to reach that one person that needs it, especially if it's a Soldier.
"I have this thing, 'One is greater than zero," Cheek said. "So if it's just one person that I can reach, one person I can talk to, if it's the one kid that comes to me at the dining facility after I speak somewhere, that's fine. When he says, 'Your message really resonated with me. Can we talk for a few minutes?' We talk, and I end up changing that person's life. That's what it's all about. One is greater than zero."
He's done greater than that. Cheek said he has spoken in front of about 850 young Soldiers since January. He has provided each of those Soldiers with a stamped envelope and a blank thank-you card, urging them to contact someone who has helped them. Cheek said he has received many of those cards back, along with hundreds of emails from Soldiers who say they look at the Army in a new light. The feedback has emboldened Cheek to start spreading his message full time. He plans to return to the United States later this summer to focus on running his business. He also expects to complete his second book by year's end. It will focus on the importance of education, specifically at community colleges.
But what Cheek is really looking forward to doing upon his return to the country is taking on as many speaking engagements at Army posts as he can.
"If you want me to come speak, I'll pay my own way," Cheek said. "I'll send books. That's my way of giving back. It's that 'greater than zero' thing, and it will always work out."
Until his return, Cheek said the one thing today's NCOs should consider — something that is already being trumpeted Army-wide — is education.
"Right now, for an NCO, the focus needs to be going to school," Cheek said. "This isn't the old days. In the old days you could be a four-star CSM the old-school way. Nowadays, you need to go to school. And you can. You can knock out an entire four-year degree all online. A lot of people say, 'Well, I don't need college.' You're right, there are some people who didn't need college. But you have enough people telling you it's helpful, and you're in a place where it won't cost you a dime. So, why are you not on this computer? Why are you not taking college classes? Why are you not taking advantage of this? One is greater than zero."