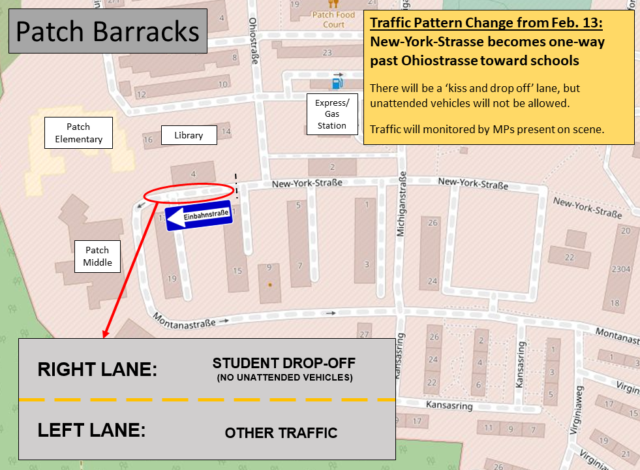 Information provided by USAG Stuttgart Directorate of Emergency Services
New section of New-York-Strasse becomes one-way
Beginning February 13, a new portion of New-York-Strasse (past the Ohiostrasse intersection in the direction of the schools) will be designated as one way traffic, 24/7. During school pickup/dropoff times, the right lane of the street near the schools is dedicated to parent pickup/dropoff, with no unattended vehicles allowed, and the left lane is designated for thru traffic. Military Police officers will be on scene to ensure safety and compliance.
K&K Gate lanes switch
Effective immediately and until further notice, commercial vehicles entering Patch through the K&K gate should use the left lane, while the right lane should be used by passenger vehicles. Please drive especially carefully in this area.
Be careful with exit drop arm
The drop arm at the main gate exit of Patch Barracks has been struck by vehicles repeatedly in recent weeks. Make sure to slow down when exiting, approach carefully, and wait for the arm to lift completely before proceeding. Drivers are liable for damage.