Information courtesy of the Exchange
A new service independent of R/W/B schedules intended for high-risk individuals, single caretakers, and others with urgent needs or difficulty shopping.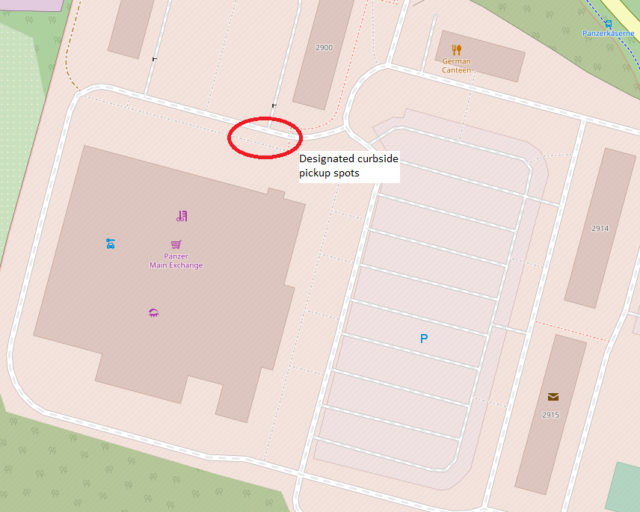 The Panzer Main Exchange has introduced the Curbside Pickup Program to provide customers with continued support during the current COVID-19 situation. The service provides for the safety of customers and associates, while providing convenience and minimal interruption to the Exchange shopping experience.
The service is intended for high-risk individuals, single caretakers, and others with difficulty shopping for themselves and their families. The service can also be used in the case of an urgent need that cannot wait until a customer's assigned shopping days. Although the service does not fall within the Red, White, and Blue scheme, customers are requested to use this service in exceptional circumstances only.
Buy Online, Pickup Curbside is an extension of the Buy Online Pickup In-Store (BOPIS) click-to-brick program. It allows customers to purchase merchandise online at shopmyexchange.com, and pick it up at their local Exchange main store.
The program works following these three simple steps.
Customers select and pay for their merchandise from shopmyexchange.com. (Make sure and select our local Exchange as your pickup location).
The customer is notified when their merchandise is ready for pickup via email.
Customer parks at one of the designated parking spots reserved for curbside pickup (by the Barber Shop entrance of the Panzer Mall, see graphic at right), calls the phone number on the sign, and their order will be delivered to the vehicle. (Hearing-impaired customers may also send a text message — a normal SMS, not through a messaging app like WhatsApp — to the listed phone number with their name and the spot number)
Elizabeth Celtrick of the USAG Stuttgart Public Affairs Office contributed to this article.