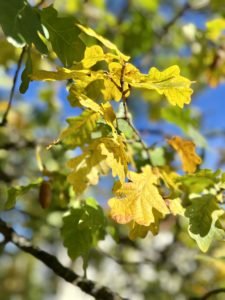 By USAG Stuttgart Public Affairs
The air is getting crisper, and the leaves are turning from green to beautiful golds and ambers. Fall is here in Stuttgart.
That also means the garrison's annual Fall Clean Up is here. After a summer of traveling and a September of Fests the Garrison Command Sergeant Major has noticed USAG Stuttgart could use a little sprucing up. So he's issuing you your rake and bag!
Sergeant Major wants you to clean up all loose debris around buildings, to rake and bag leaves/grass, and to pick up large branches and sticks that have collected around the building. Place the bagged leaves/grass in designated pick up areas. Make a pile of the branches and sticks next to the bags of leaves. 
Clear all basements and common areas of accumulated bulk trash. Repair lawn damage caused by mowing equipment or vehicles. Report large areas of damage to your installation coordinator.
*Please coordinate with your local Installation Coordinator for supplies and debris pick up appointments. *
Clean-up times: 
Panzer Kaserne/Robinson Barracks: Oct. 10 — 14 
Kelley Barracks/SAAF: Oct. 17 — 21  
Patch Barracks: Oct. 24 — 28
Touch Up (as required): Oct. 31 — Nov. 4
* Note: Cleanup times for units is 7:30 a.m. to Noon; housing areas 1 – 4:30 p.m.*
Installation Coordinator Contact Info:
Panzer: DSN 431- 2855

RB: DSN420-6033
Kelley/SAAF: DSN 596-6280
Patch: DSN 430-5450
Let's work together to keep this post clean!