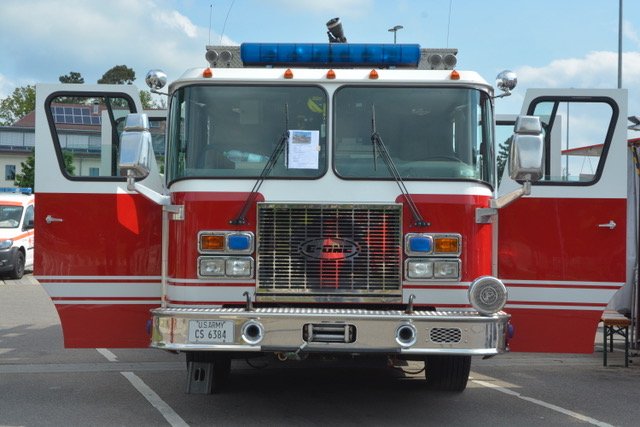 Story and photos by John Reese
USAG Stuttgart Public Affairs
Black smoke billowed from a fully engulfed car fire, ladder trucks reached skyward and sirens howled as the firefighters of USAG Stuttgart Fire Department raced to the Panzer Exchange parking lot, May 18. A large crowd gathered near the entrance of the Exchange, reacting to the many explosive pops and crackles the car made in its death throes. The intense heat was felt 20-30 yards from the four-wheeled inferno until the firefighters flaked out a hose line, attacked the fire and quickly turned the black smoke to white steam clouds.
Before lighting it up, two MPs from the 554th Military Police Company did some impromptu hands-on training by smashing the driver and passenger windows at the peril of 100 push-ups if they failed to break the window on the first swing.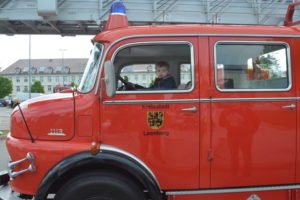 Garrison Fire Chief Karl Doersam addressed the crowd on scene and across the greater Stuttgart area on the air with AFN hosts Sgt. Lawrence "El Boogie" Holmes and Spc. Alexis "Lexie-G" Gonzales.
"The importance of today's fire safety demonstration is that the real thing can be so much worse if you're not paying attention to it. To talk about risks, and promote means of mitigating those risks is the major intent of this event," Doersam said.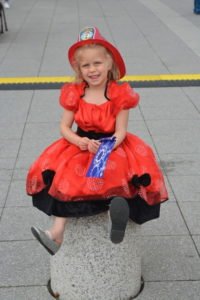 This was just one of the many scenes at the USAG FD open house. Included were numerous static displays of firefighting apparatus of the garrison and supporting fire departments from Boeblingen and Leonberg. The German auto club ADAC had a life-sized driving simulator, and the emergency/disaster relief agency THW brought displays of their equipment and a bouncy house for the kids. Some of the events were focused on teaching moments for community children, with toy fire helmets and a visit by fire safety mascot Sparky.
"This open house is to show our capabilities with realistic demonstrates. It kind of brings it home when you see a livingroom set on fire—it makes it personal for you, that it could be your house if something happens," said garrison fire inspector Anthony Fornicola, a firefighter of 10 years.
As in previous years, the Boeblingen Fire Department's ladder truck took community children high above the roof of the Exchange, rising to 3-4 stories high.
Another car was cut and pulled apart in a demonstration of how to rescue a victim from a wrecked car using a combination of hydraulic and other tools.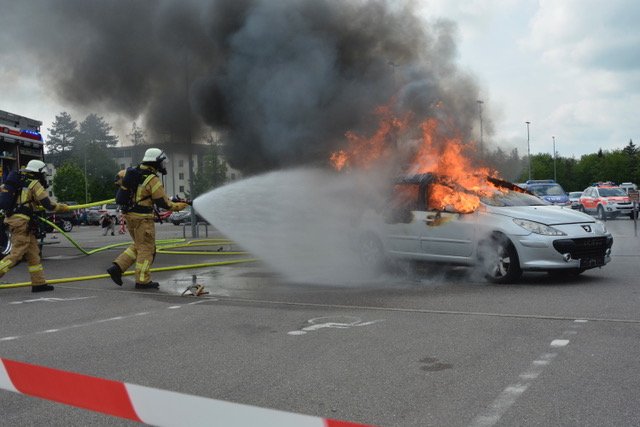 As for the car fire demonstration, Doersam said most car fires are from a technical failure, usually in the engine, and take about 10 minutes for the vehicle to be enveloped in flames.
"A car fire takes a lot of time to reach the passenger compartment. Unfortunately, many people think of a burning car exploding, like in the movies. Instead of trying to help people get out or extinguishing it, they stand back," Doersam said. "They almost never explode."