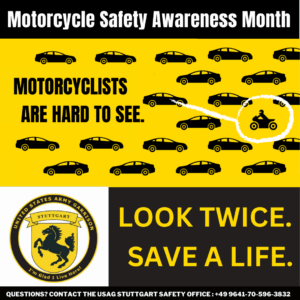 Information Provided by USAG Stuttgart Safety Office 
Advice to Drivers
Automobile drivers, not motorcyclists, are responsible for more many motorcycle crashes. Many times, drivers don't see the motorcyclist until it's too late to avoid a crash.
Keep these ideas in mind can help prevent accidents.
If driving, please be vigilant. Avoid distractions!
Remember that motorcycles can be easy to miss. 
Motorcycles are more difficult to spot than cars because of their smaller profiles, and drivers are conditioned to look for other cars, not motorcyclists.
Traffic, weather, and road conditions require motorcyclists to react differently than drivers, so it is often difficult to judge and predict when riders may take evasive action.
This means drivers must always be aware of their surroundings. 
Remember: Look twice – save a life!
Advice to Motorcycle Riders
Be visible: Wear bright clothing and a light-colored helmet. Always have your headlight on, day and night, and avoid riding in the blind spots of cars and trucks. If possible, flash your brake light when slowing and before stopping.
But pretend you are invisible: If you assume others can't see you, you will tend to ride in a hyper-aware mindset and learn to notice every detail in your surroundings. Constantly search for changing conditions using the Search-Evaluate-Execute strategy (SEE) to assess and respond to hazards before you have to react to an emergency.
Gear up every ride: Wear proper riding gear from head to toe. Full-face helmets provide the best protection, and jackets, pants, gloves and boots that are made for riding will generally be made of abrasion-resistant material and provide additional comfort and protection.
Follow the rules of the road: Riding respectfully — and legally — creates a safer environment for everyone. Unexpected maneuvers could startle or confuse others and cause a crash.
Before you ride, inspect your bike: Do a pre-ride check, which includes looking over your tires and wheels, checking fluids, cables, your bike's chassis, lights and electronics, and the stands. Use the T-CLOCS inspection checklist to help you.
Be up-to-date on MSF training: Additional training is required for military motorcycle operators in Europe. The requirements are basic, advanced and sustainment training. Army, Navy, and Air Force requirements can be found in Army in Europe Regulation 190-1 (18 June 2020). Civilians are not required to attend but highly encouraged to participate on a space available basis. 
Safety booklets, tips, and other reference guides are available at the Motorcycle Safety Foundation (MSF) website, www.msf-usa.org. 
Motorcycle Safety Courses
Did you know the USAG-Stuttgart Safety Office offers motorcycle safety courses? Courses run through September 2023.  
Upcoming Motorcycle Course: 
11-12 May: Basic Rider Course (BRC) @ SAAF ​
30 May: ERC @ SAAF ​
22 June: ERC @ SAAF ​
18-19 July: BRC @ SAAF
16 August: ERC @ SAAF
22 September: ERC @ SAAF
The courses are free and designed to offer all riders – both new and experienced – the chance to expand their skills.
To ride motorcycles legally in Europe, Service Members must be up to date on required Motorcycle Safety Foundation (MSF) courses. 
The Basic Rider Course (BRC) is a two-day course with about five hours of class time and 10 hours of riding. It includes a written test and a riding portion to test the rider on their skills.
Within one year of completing the BRC, Service Members must complete the Advanced Rider Course. They'll need to take it again every five years to remain current.
"Active-duty service members, civilian employees, contractors and family members are required to have a U.S. state-issued motorcycle license or endorsement on a valid driver's license to operate a motorcycle in Europe," said Rachael Long, USAG Stuttgart Safety Manager. "Additionally, Army Service Members are required to complete a four-hour approved U.S. Army in Europe motorcycle orientation course and pass a 30-question written test to receive a USAREUR motorcycle license." For more information regarding vehicle registration and licensing, visit https://home.army.mil/stuttgart/index.php/my-garrison/all-services/vehicle-registration or https://home.army.mil/stuttgart/index.php/my-garrison/all-services/drivers-testing. 
When attending the initial MSF Basic Riders Course in Stuttgart, loaner bikes are provided, Long said. Students must wear protective gear to include a helmet, gloves, motorcycle jacket (if available), long-sleeve shirt, long pants or jeans and sturdy boots.
Service members must have a valid MSF card to attend the Basic Rider Course, which is only valid for 12 months. Within that 12-month time frame, they must attend the MSF Experienced Rider Course or Motorcycle Sport Rider Course (the course depends on the type of motorcycle owned). Both courses are valid for five years.
For more information about motorcycle safety or upcoming classes, contact the Garrison Safety Office at +49 9641-70-596-3832 or email at usarmy.stuttgart.id-europe.list.usag-stuttgart-safety-center@army.mil.
Riders can visit the Army IMCOM Registration System link at https://imc.army.mil/airs (Common Access Card is required) to view available classes in their area.