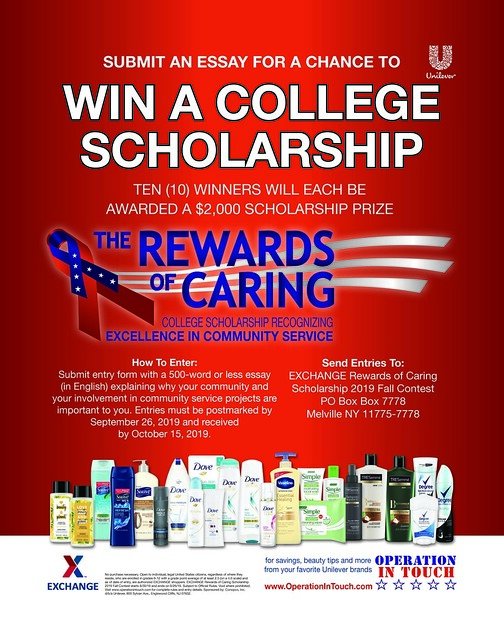 Army & Air Force Exchange Service Public Affairs
 DALLAS — Military students who make a difference in their community are eligible to win one of 10 $2,000 scholarships through the Army & Air Force Exchange Service's and Unilever's Rewards of Caring essay contest.
From Aug. 30 through Sept. 26, authorized students in grades six through 12 with a grade-point average of 2.5 or higher (on a 4.0 scale) can submit an essay in English of 500 words or fewer explaining why their community and involvement in service projects are important to them.
"This contest is a great opportunity for students involved in their communities to be recognized for their hard work," said Chief Master Sgt. Luis Reyes, Exchange senior enlisted advisor. "The Exchange is honored to acknowledge the dedication of these military children."
Entries are accepted via U.S. mail only to:
Exchange Rewards of Caring Scholarship 2019 Fall Contest
P.O. Box 7778
Melville NY 11775-7778
Submissions must be postmarked by Sept. 26 and received by Oct. 15 to be considered.
Contest winners will be selected by Unilever's Operation In Touch team. No purchase necessary to enter. For complete rules and entry details, click here.