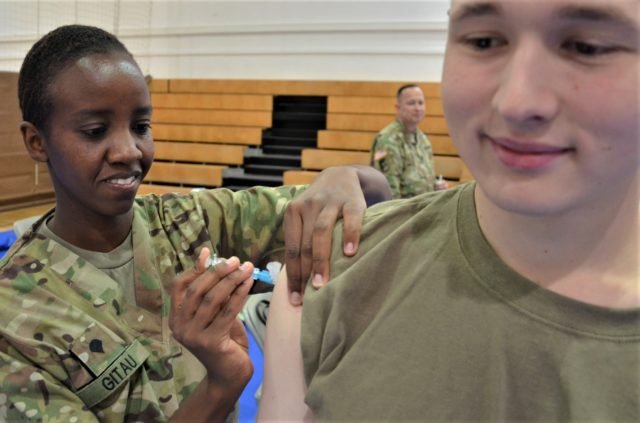 Information from U.S. Army Health Clinic Stuttgart
Flu shots have arrived and will be available to all eligible beneficiaries in the Stuttgart military community at the dates and times listed below. Military personnel will have priority on site, but all community members are welcome.
Save yourself time and expedite the screening process by printing and completing DA Form 116 for each patient prior to arrival:
Fillable DA Form 116 (Pediatric and Adult Influenza Screening and Immunization Documentation)
*** For best results and compatibility, please download the form to your device and open in Acrobat.  Otherwise, you may receive a message reading, "Please wait…"
A non-fillable version which is viewable and printable from a browser window is available here.
Please attend a vaccination event on an installation on which you work or reside, and not on others.
September
Monday, September 26th (8 A.M. – 4 P.M.) at Panzer Fitness Center
Tuesday, September 27th (8 A.M. – 12 P.M.) at Panzer Fitness Center
Wednesday, September 28th (8 A.M. – 4 P.M.) at Patch Theater
Thursday, September 29th (1 P.M. – 5 P.M.) at Patch Elementary and Middle Schools
Friday, September 30th (8 A.M. – 4 P.M.) at Kelley Theater
October
Monday, October 3rd (8 A.M. – 4 P.M.) at Kelley Theater
Tuesday, October 4th (8 A.M. – 4 P.M.) at Panzer Fitness Center
Wednesday, October 5th (8 A.M. – 4 P.M.) at Patch Theater
Thursday, October 13th (1 P.M. – 5 P.M.) at Robinson Elementary School
Wednesday, October 19th (8 A.M. – noon) at Patch Theater
Thursday, October 20th (1 P.M. – 5 p.m.) at Stuttgart Elementary and High Schools
Thursday, October 27th (8 A.M. – noon) at Kelley Theater
November
Thursday, November 10th (8 A.M. – noon) at Patch Theater
Thursday, November 17th (8 A.M. – noon) at Patch Theater