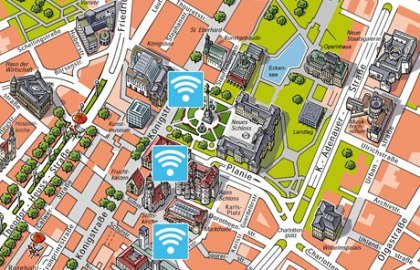 Courtesy of Stuttgart-Marketing GmbH

Free WiFi connection in downtown Stuttgart is available at Marktplatz, Schlossplatz and Schillerplatz squares, as well as at the i-Punkt Tourist Information (Königstrasse 1a).

Select the "Unitymedia Wifi" network and request your login credentials via text message to start "surfing."

The "Walled Garden" is an information portal of the Stuttgart-Markting office providing users with information on Stuttgart's history, landmarks, tourist attractions, restaurants, public transportation, opening hours and much more. The Walled Garden is available at the user page when applying for WLAN. Accessing the information portal doesn't require WLAN registration.

How to use Free WiFi:
Select network "Unitymedia Wifi".
Open any URL in a browser.
Request access data via text message, login and start surfing.
For information, visit https://int.stuttgart-tourist.de/en/free-wifi-in-stuttgart.