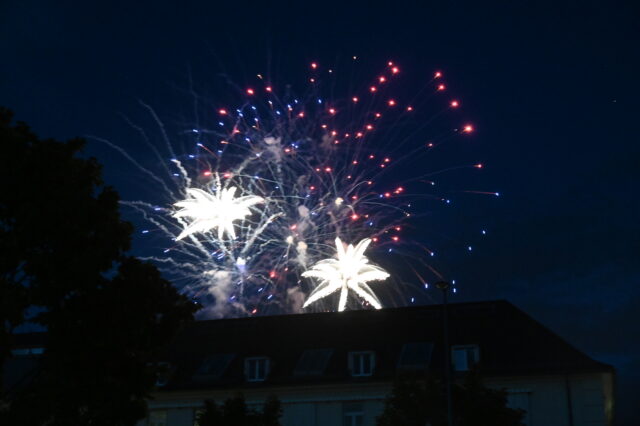 By Balmina Sehra
USAG Stuttgart Public Affairs
STUTTGART, Germany – At precisely 4 p.m., July 4th, 2023 the Panzer Kaserne gates in Böblingen opened to the local German community after being shut firm for 20 years.
The local community poured onto the base mixed with excitement, curiosity, and nostalgia about how Independence Day was celebrated before 9/11 security measures padlocked the gates.
"Welcome everyone to our Independence Day… for the first time in twenty years we have reopened our post to our German neighbors!", exclaimed Col. Kirk Alexander, U.S. Army Garrison Stuttgart garrison commander during the day's opening remarks.
A generation ago celebrating July 4th with their American neighbors was a tradition for many Germans living around the base – a tradition they had dearly missed for the last 20 years.
Schimi, from Böblingen, reminisced about the past days celebrating America with Americans.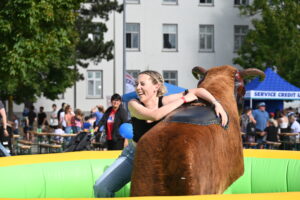 "Being here today wakes up old memories in me," she said. "We used to celebrate every  Independence Day together and I made a lot of friends on base."
She and her husband had almost lost hope to jubilate any holiday with their American friends again, and were over the moon when they saw the advertisement in the newspaper, as they had been looking forward to some "proper American food and sweets."
Panzer was exactly the spot to retrieve these American goodies, with food trucks lined across the parking lot and an MWR kiosk selling star-spangled sweets.
Eddie, who lives and works on base, couldn't contain his excitement, "there is so much to do here, especially for children. I like the little interactive booths they have around here."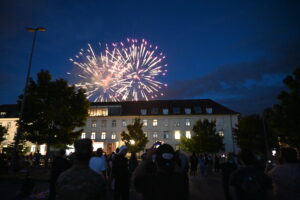 A range of activities kept visitors entertained from a temporary tattoo booth to a dreaded ride with the mechanical bull.  Rock climbing, bungee jumping, and even a series of water events drew lines of Germans and Americans alike. Many attendees even commemorated the historic day with a family picture at the photo booth.
Touched by the turnout Eddie said "being able to celebrate Independence Day in another country is amazing, but the fact that the Germans are willing to celebrate this day with us is just awesome."
Though the food and attractions may be a big factor why many Germans gravitated toward the gates, friendship and fireworks – played to the adopted German national anthem of "Country Roads" by John Denver – kept them to the end.