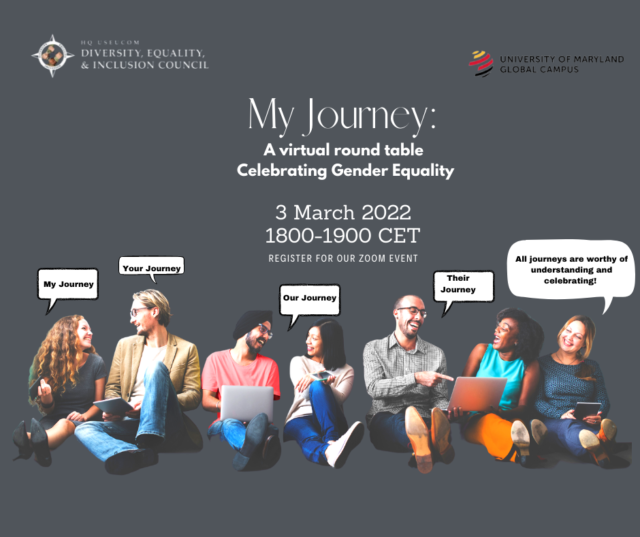 USEUCOM Diversity Equality and  Inclusion Council (DEIC), in partnership with University of Maryland Global Campus, will bring together subject matter experts to discuss the topic of gender equality. The event is open to all USEUCOM personnel and families.
A discussion panel titled "My Journey" featuring UMGC professors Dr. Mulvey, Dr. Stock, and Dr. Thompson will take place at 6 p.m., to 7 p.m., on Thursday, March 3
These professors are subject matter experts in the history, literature, and psychology of gender equality and in addition to this, the panel will include a diverse group of men and women who will share their experience on the subject of gender equality. It is for this reason that the event is called, "My Journey", as they each have unique journeys on the topic. This is a unique opportunity to hear personal stories but more importantly, it will give viewers an opportunity to accept, challenge, and shape mental constructs about the social and cultural norms regarding gender in their own personal and professional lives.
Participants in the zoom event will have an opportunity to also submit questions and comments via the virtual event.
To join the Zoom Meeting just click here to register
My Journey full link: https://umgc-edu.zoom.us/meeting/register/tJwlfuqspzwtEtO0B7K1VxcwElg9MZkceKyW