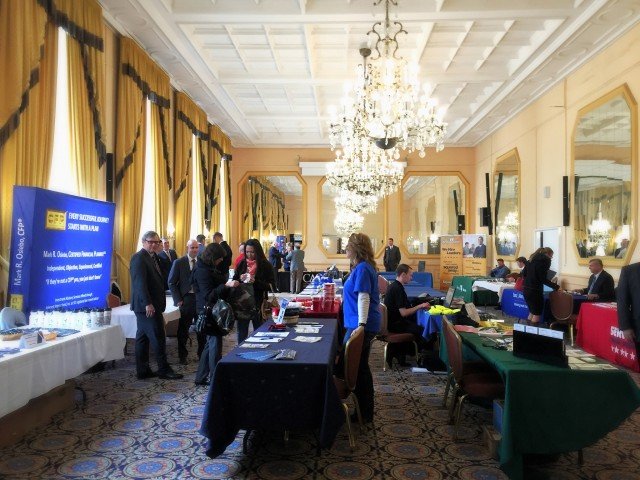 By Holly DeCarlo-White and Megan Brown
USAG Stuttgart Public Affairs Office
Editor's Note: Megan Brown is a Stuttgart High School career practicum intern for the USAG Stuttgart Public Affairs Office.
The Association of the United States Army (AUSA) hosted a job fair on Patch Barracks, March 8, to connect and educate Stuttgart community members about available jobs, financial planning, pre- and post-military retirement transition assistance, and more.
During the event representatives from garrison directorates, contract companies and private organizations offered advice geared toward spouses on finding a job, making the transition to civilian life, and pursuing careers even when they are thousands of miles away from home.
The AUSA Chapter President of Stuttgart and event organizer, Michael Pierce emphasized the importance for family members interested in working to continue to do so, "[Continuing to work] keeps them current in their skill sets so if they return to the states, they have progressed and developed new skills, as well as continued networking for future job opportunities."
Although moving every two to three years is a harsh reality for most military families, it does not mean spouses cannot be just as, or more successful, than their counterparts.
It's important for spouses to not get discouraged when looking for a job, Pierce advised. Maybe it's intimidating when you don't speak the language, or there are no jobs that seem to be available, or a mixture of both, however it is important to keep pushing, The jobs will not come on their own. People who are successful in life do not wait for opportunities to happen, but rather make their own opportunities.
It's also important for spouses to engage in the community and get to know people in the meantime when you are waiting for a job, because sometimes it's as simple as knowing the right person, said Pierce.
Today, there are more options than ever before to work from home with new online and home based business opportunities growing every day.
Learn more about Stuttgart military spouses in the workforce in The Citizen series, "Spouse Employment." The first article focuses on success in journalism and writing. Click here to read more.
Click here to view the Job Fair event photo album.
___________________________________________________________
 USA Jobs: Part-time or full-time career opportunities within U.S. Army Garrison Stuttgart are available at https://www.usajobs.gov, spouses should select the Federal Employee option on the left for a full list of eligible positions to populate. Check back often for new jobs posted daily.
Army Community Service (ACS) offers free Employment Readiness classes and information on volunteer opportunities within the U.S. Army Garrison Stuttgart, plus many more services open to all DoD ID card holders. Stop by ACS, Building 2915 on Panzer Kaserne, or contact DSN: 431-3362/civ. 07031-15-3362.
Home-Based Business contact: DSN: 421-2622/civ. 497117292622 to begin processing an application for U.S. Army Garrison Stuttgart.
AAFES job opportunities, visit https://odin.aafes.com/employment/EXCHANGE_EMPLOYMENT/HTML/start.html.
Job opportunities available year-round:
Become a Family Child Care provider
Are you interested in becoming your own boss, working from home and making money?  Look into becoming a Family Child Care (FCC) provider. Free training, job mobility, continuing education credits and professional resources are available. Contact DSN 430-4047/4100 or civ. 0711-680-4047/4100.
Child and Youth Program Assistants
Interested in a career with Family, Morale, Welfare and Recreation (FMWR) to serve and make a positive difference in the life of our Military members their families and civilians in the Stuttgart community? We are currently recruiting Child and Youth Program Assistant (CYPA) positions within various Child, Youth and School Services (CYSS) facilities. Nonappropriated Fund (NAF) positions are open to all qualified candidates eligible for appointment under U.S. employment conditions. Visit the USA Jobs link to view online vacancies: www.usajobs.gov.
SKIES Instructors
Schools of Knowledge, Inspiration, Exploration & Skills Unlimited (SKIES Unlimited) and Child & Youth Services (CYS) are seeking qualified instructors to teach piano, voice, dance (pop/hip hop), art, swimming, martial arts, speech therapy, foreign languages or other child/youth specialized programs. Become a SKIES Unlimited instructor and share your area of expertise with the children and youth of the Stuttgart Community. Must be 18 years old or older. If you are interested, call DSN: 430-6281/civ. 0711-680-6281 or email stuttgartcys@googlemail.com.
____________________________________________________________
Military Spouse Employment Partnership Program
Click here to read the original article, published Feb. 2016.
The Defense Department announced that the Military Spouse Employment Partnership program has now partnered with 300 employers, according to officials from the DoD Spouse Education and Career Opportunities Office.
The program, launched in June 2011 by Jill Biden, wife of Vice President Joe Biden, is an employment and career partnership connecting military spouses to partner organizations and companies who have committed to recruit, hire, promote and retain military spouses in portable careers.
"This is such an exciting and important milestone for the program and for the thousands of military spouses around the world who search for meaningful employment and career opportunities," said Rosemary Williams, deputy assistant secretary of defense for military community and family policy.
"The Military Spouse Employment Partnership addresses the employment challenges facing military spouses while providing partner employers with access to a pool of highly qualified military spouses," she said.
The partnership includes corporations, small businesses and other organizations that post job openings on the Military Spouse Employment Partnership Career Portal, mentor military spouses and other employers, and provide employment data on military spouses hired, officials said.
"The talent of military spouses can strengthen the economy, military families, the Defense Department and the nation," said Eddy Mentzer, associate director of the family readiness policy for DoD's military community and family policy office. "Partnership companies and organizations have hired more than 90,000 military spouses."
The partnership is part of DoD's Spouse Education and Career Opportunities Program, which seeks to reduce the significant unemployment rate and wage gap currently experienced by military spouses.
Additional resource: