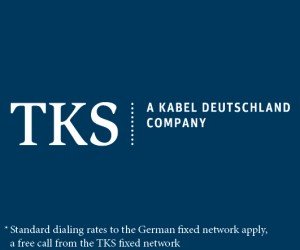 By TKS Marketing and Public Relations
Starting September, TKS will implement a series of major infrastructure upgrades in the networks to transition an upgrade to digital high definition format. As a result analog TKS and AFN TV transmission will be phased out. This change is scheduled to occur for USAG Stuttgart installations on Sept. 16.
FACTS | Upgrade to DVB-C brings an end to analog cable TV
• Analog AFN and TKS television broadcasts will be phased out Germany-wide at all government housing facilities including barracks, dorms, and family housing starting September 7.
• Existing analog television content will be transferred to DVB-C format. (DVB-C = digital video broadcast – cable)
• There will be no change to the actual AFN and TKS program and channel lineup at this time. With the implementation of digital programming all facilities will be equipped with the newest HD standards.
• To tune in to the DVB-C channels: Residents must perform an "automatic channel scan" using their television set's DVB-C tuner on the date scheduled for their facility.
• If your TV has a built-in DVB-C tuner no additional gear is required to watch DVB-C broadcasts.
Special Information: easyTV & easyConnect Customers
On-base easyTV and easyConnect subscribers may experience intermittent service outages throughout the course of the day between the hours of 07:00 and 16:00, on the date scheduled for the DVB-C upgrade.
easyConnect: telephone and internet will automatically resume, no special action is required.
easyTV: viewers must perform a new "easyTV channel scan" after 16:00.
How to scan: Menu > Settings > Channel scan > OK.
Need help?
If you require technical assistance or need to report an unscheduled service outage, contact TKS customer service: 0631 3522 499.