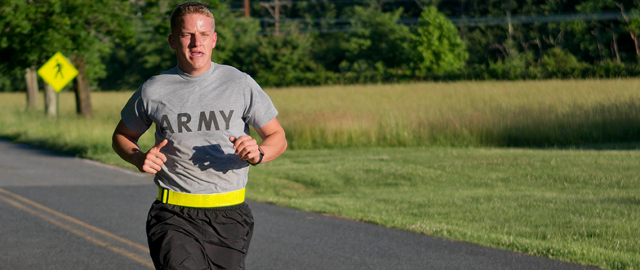 By Col. Joanna Reagan
U.S. Army Public Health Command
January is the time of year when many people make a New Year's resolution to lose weight. Some people want to lose just a few pounds while others may want to lose 30 pounds or more.
So where can you find the inspiration to help you to lose more than 30 pounds and keep it off for more than a year?
Read entries in the National Weight Control Registry, which contains stories of individuals who have lost more than 30 pounds and have kept it off for at least one year. Currently, more than 10,000 individuals have shared their story in order to help others lose weight.
Eighty percent of entries in the National Weight Control Registry are from women and 20 percent are from men. The average participant has lost 66 pounds and kept it off for 5.5 years. There are many differences in participants:
• Forty-five percent of participants lost weight on their own and 55 percent lost weight with the help of weight loss program.
• Ninety-eight percent of the participants modified their food intake to lose weight.
• Ninety-four percent increased their physical activity to lose weight such as increased walking.
• Ninety percent exercised about an hour per day and minimized their time watching TV.
• Eating breakfast every day was reported by 78 percent of the participants.
• Seventy-five percent weighed themselves at least once a week.
The biggest connection between participants was that most developed a goal plan for weight loss.
If your goal is to lose weight this year, here are suggestions to help you get started and create new goals for success.
Try something new. To modify your diet, make an appointment with a registered dietitian for personalized nutrition coaching sessions. Make an appointment at an Army Wellness Center to determine your resting metabolic rate and your current body composition.
Purchase a digital fitness device to monitor how many steps you are walking and your hours of sleep. Many of these devices can be linked to your smartphone or to your computer to monitor your progress over time. Some programs and apps have a feature to help track your food intake and to see how many calories you expend and consume daily. A fitness device is a visual reminder to help you to add extra steps into your day. Try having a "walking meeting" with your co-workers or take the stairs up and down your building for a break. A healthy goal is to walk at least 10,000 steps per day.
There are many apps to help you lose weight. The Academy of Nutrition and Dietetics, the world's largest organization of food and nutrition professionals, offers reviews of popular smartphone apps for weight management. Visit www.eatright.org and search for app reviews.
To increase physical activity, try attending a new class such as Zumba, yoga or indoor cycling. Add strength training to your routine to increase your lean muscle and increase your resting metabolic rate. Make an appointment with a personal fitness trainer to help set up a personalized workout program and for new ideas to add strength training to your routine. Many women lose muscle mass over time and replace the muscle with fat. For each pound of muscle you gain, you burn 35 to 50 more calories each day. Strength training, in combination with an adequate amount of calcium, also helps to defend against osteoporosis.
Find a good friend who also wants to lose weight and set up a plan to work out together. Having someone as a battle buddy can be very helpful for holding each other accountable to maintain the workout routine.
To help your improve your nutrition, try these ideas. Pack a lunch and healthy snacks for work. By packing a lunch, you will save money and decrease portion sizes. You will be more likely to eat a healthy lunch too. When you pack your lunch, add extra fruit and vegetables to snack on for a mid-morning snack or an afternoon break. You should also add extra vegetables with your evening meal. Consider the sugar in your beverages and try not to drink any with high fructose corn syrup. Limit your snacks after your evening meal, as they tend to be high in sugar and fat.
Sleep is also an integral part of losing weight. Inadequate amounts of sleep increases the appetite hormones leading to increased appetite and increased food intake. Having a regular sleep cycle and achieving 7-8 hours of sleep each night can make a difference with performance and losing weight.
For more tips, check out the Performance Triad resources here.
Editor's Note: Col. Joanna Reagan is a registered dietician and a former commander of the Stuttgart Army Health Clinic.