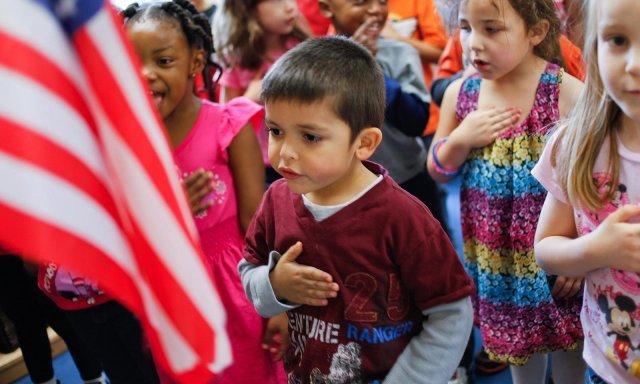 By Mika Taylor
Senior, Stuttgart High School
During the celebration of Month of the Military Child in April and Military Appreciation Month in May, it is time to look at what makes this particular group of children stand out from the rest.
"Month of the Military Child is an opportunity to celebrate our military-connected children and youth, and as a community, to help them all begin seeing those obstacles as opportunities… through self-reflection, self-awareness, and a celebration of their sacrifice, strengths, and unique abilities," said Brian Pappas, Stuttgart Child and Youth Services School Liaison officer.
First and foremost, military children have one or more parents that serve their country in one of the uniformed services of the Department of Defense. While there are differences between branches: Army, Navy, Air Force and Marines, they all hold their service members to higher standards of behavior and greater cultural norms than the average employee in America.
Living in an on-post environment where patriotism is always present may seem like every other small town in America, however, a difference with military children is that they know the sacrifice required first hand. They also experience times missing their mom or dad when they have deployed in support of their country. There is a direct link to military children having an increase of depression and anxiety as a result of deployment, according to psychologist Dr. Michael Faran, a practicing Adolescent Medicine doctor at Madigan Army Medical Center in in Tacoma, WA.
Aspects of being a military child also come with many minute differences from their fellow peers. Some examples include the normal linguistics of military jargon and a heavy use of acronyms: 'PCS', 'BX' or 'PX', 'base' and 'post.' Military children are also exposed to the various languages attained in host countries when being stationed overseas. Other examples include telling the time of day with military standard hours, e.g. 2200 hours instead of 10 p.m., or spelling out words by identifying letters, A as in Alpha or D as in Delta. When living on a military base, military children regularly might see fighter jets take off, hear the sound of low-flying helicopters, or have the opportunity to walk aboard a floating Navy ship that may be just outside their bedroom window.
Adaptability is probably the most significant identifier of a military child. They often have moved more than once to a different state or country, and have the experience of going to new schools, meeting new people, adjusting to a new setting. Not to mention moving to another country, language and culture are essentially new frontiers for adults, imagine what they are in the eyes of a child.
Garrison School Liaisons know firsthand how military children can experience more social upheaval and adaptation in a few short years than most adults in the U.S. know in a lifetime.
"Military-connected children change schools, on average, between six-and-nine times from kindergarten through 12th grade. With this comes many obstacles, but also many opportunities," Pappas said.
Adjusting to an environment without a parent/guardian for long periods of time is another shift that is difficult to deal with and inconceivable to the average American. For a military child, it is normal to have one of the two structural pillars in their life removed in order to be in service of their country.
Military children carry a sense of pride, not only in the country they represent, but for those who give their lives to serve. They carry on a greater sense of appreciation and, according to The Future of Children, a magazine series by Princeton University, there is a positive correlation "between the wellbeing of the families of military personnel and the likelihood that they will stay in the service."
Despite the hard times that go along with the military lifestyle, military children are molded to be future leaders, bound to use their experiences of other cultures, languages and open mindedness to help shape the world of tomorrow.