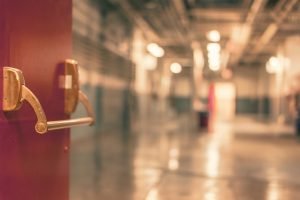 It takes a community to raise a child, according to educators and service members in the Stuttgart military community.
To that end, four military units each adopted a Stuttgart Department of Defense Dependents School during a ceremony at the Panzer Shopping Mall April 26, 2011. The adoptions were part of the Partnerships in Education Program, designed to provide students with increased mentorship and learning opportunities.
Headquarters, U.S. European Command, adopted Patch High School; Defense Information Systems Agency Europe, adopted Patch Elementary School; Headquarters, U.S. Africa Command, adopted Robinson Barracks Elementary/Middle School, and U.S. Marine Corps Forces, Europe, adopted Böblingen Elementary/Middle School.
While units have volunteered in schools before, this marks the first official school adoption in U.S. Army Garrison Stuttgart.
"Our most important accomplishment in this partnership was to bring the schools and units together," said Dr. Rena Hall, Stuttgart School Liaison Officer. "It was almost like a marriage. The purpose is to make it a win-win [situation] for everyone."
By signing the partnership agreement, unit leaders pledged to provide service members who will read to students, mentor them, or support school events and projects, such as the PHS graduation ceremony or an expanded fitness program at RBEMS.
"Most importantly, they are agreeing to play an active role in the education of our students here in Stuttgart," Hall said.
Hall began coordinating the Partnerships in Education program two years ago when she started working as a Stuttgart SLO. As she plans to move this summer, seeing her idea realized is a fitting end to her time here.
"It's been a couple of years in the making, but I feel it is a great partnership," she said. "I want to thank all of the units for stepping forward, as well as all of the schools for embracing the units. It's a great way to end my term … to see it come to fruition."
School officials are excited to gain an adoptive unit for several reasons, from expanded support to bringing more people to the school, in the case of RBEMS.
"For us at RB … we're furthest away from the populace. Having that partnership is more of an impetus to get people into the school," said RBEMS Principal Michael Johnson.
AFRICOM has traditionally provided guest speakers to RBEMS, including dignitaries from many African nations who have spoken to students about the African countries they study in school. Johnson hopes AFRICOM's continued participation will attract more parents and volunteers.
"Anytime I can get the community into our building, we win," he said.
As with the working relationship between RBEMS and AFRICOM, the adoption process is an extension of what many units have already been doing.
For example, service members from DISA Europe have seen the results of their interaction with students at PES, whether they were helping second-grade students learn math or leading the Friday jump rope club, said Air Force Master Sgt. Jeff Maione, DISA Europe Partnerships in Education manager.
"As we're in the schools more and more, there's a bond we get with the kids," he said. "We're able to share life stories. They know you."
However, making the adoption official gives units the pride of "owning" their schools, said Command Sgt. Maj. Delbert L. Hoskins, EUCOM Headquarters command sergeant major.
Hoskins not only spearheaded the adoption of PHS by EUCOM, but encouraged other units to take on the remaining schools.
"Every service member who goes into the school and does something, takes something away from it," he said. For example, they can learn about students' specific needs and advocate for them back at their unit.
"This is our school," he said of PHS. "We can certainly be a voice for the school."
Fleet Master Chief Petty Officer Roy M. Maddocks, Jr., EUCOM senior enlisted leader, also participated in the partnership ceremony by signing EUCOM's agreement with PHS. He affirmed his support for the program because it allows service members to contribute to the next generation of leaders.
"What's the most precious thing to us? Our children," he said. "An investment in their future is very valuable. In addition to that, the future of our nation is dependent on how we educate and care for our children."