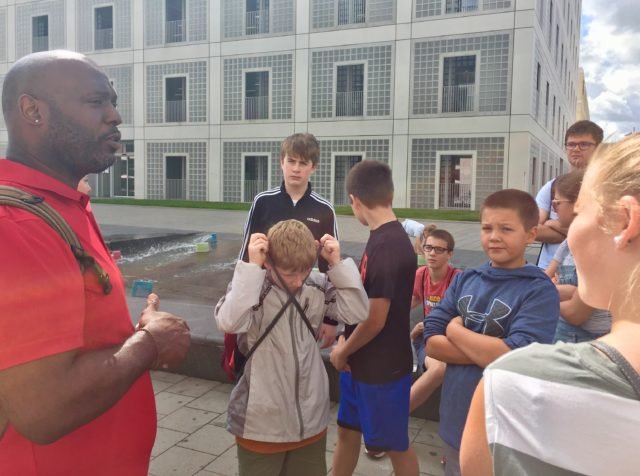 Story and photo by Lea Scavetta
Volunteer, USAG Stuttgart Public Affairs
Military kids new to U.S. Army Garrison Stuttgart recently took part in a newcomer's orientation, offering them a chance to learn about their new home.
The two-day activity, called the Stuttgart Newcomers Orientation, is run by Walter Johnson, lead technician at The Hub. It's held in the summer months. The next orientation takes place Sept. 6–7.
"This program has been designed for new students to come and get a glimpse of what Germany has to offer, also being able to do some German immersion in this program," Johnson said.
The group of young people gathered at The Hub, the teen center on Patch Barracks. After introductions and icebreaker activities, students learned some German language basics and about services provided to young people within the Stuttgart military community.
Military police investigators arrived, sharing the do's and don'ts for life in a military community, on school property, plus the German economy.
"We've been working hard to deter crime and enforce laws on and off the base," said Freddie Hanior, who's been an investigator for the past 13 years, the last two at USAG Stuttgart.
Another officer, Liam Kelly, shared a little bit about himself with the group and why he wanted to become a criminal investigator.
"I really like solving problems and trying to figure out why something happened," Kelly said. "I also like finding out who's telling the truth and who's not."
Students left The Hub and walked to the duty bus station to catch a ride from Patch to Panzer. At the Galaxy Bowling & Entertainment Center, they enjoyed free pizza and bowled a few frames. As day one wrapped up, all the youths expressed how fun the day was learning about life in Stuttgart.
Day two was the big day, when the students went to downtown Stuttgart and the newcomers were already making new friends. They formed small groups for the trip into the city. They left Patch Barracks, taking the city bus to the Vaihingen train station. Once downtown, the kids visited a newly-built mall and spent a few Euros.
"I'm really glad we are getting the chance to come to Stuttgart," said Amelia Forbes, a 14-year old teen who recently moved from Baumholder, Germany. "I would really like to take my parents here and tell them all about it."
After their quick shopping spree, they went to the Stuttgart public library to see the amazing city view from its roof. They winded through some smaller streets and stopped for photos at the Rathaus, or city hall.
The city visit ended with ice cream. With their families waiting for them back on post, the kids headed back with tales to tell about their day.
On the train back to post, 13-year-old Addison Rybka, who lived in Rome before coming to Germany, said she liked the program, mostly because she found new friends.
"I got to learn so much about Stuttgart," Rybka said. "I met a lot of cool people."
(Editors note: Lea Scavetta is a junior at Stuttgart High School and a new arrival to the community. She is a volunteer through Army OneSource.)