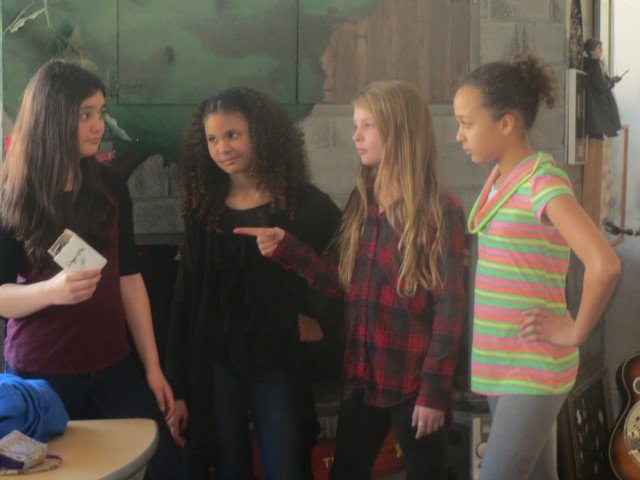 By USAG Stuttgart Public Affairs Office
Fifth graders of Stuttgart Elementary School took part in the Project Project program performing an original play entitled, "Tough Choices" for their classmates and other fifth-grade students, Jan. 20. The theme of the play was a cautionary story about a student who began to smoke her mother's cigarettes.
Project Project is a learning opportunity where the students, not the teacher, drive the topic, direction, and message of their group project. Project Project requires the students to share the results of their work with other students at their school.
Students, Hannah Seelan, Mia Williams, Anna Grady, and Lulu Baker, wrote and produced the dramatic play themselves, portraying reasons not to start smoking.
According to the Center for Disease Control and Prevention,  in the United States, cigarette smoking prevalence is higher among people currently serving in the military than among the civilian population. Cigarette smoking prevalence is even higher among military personnel who have been deployed.
Tobacco use remains the single largest preventable cause of death and disease in the United States. Cigarette smoking kills more than 480,000 Americans each year, with more than 41,000 of these deaths from exposure to secondhand smoke.
Reference: click here.
For information on smoking cessation, contact U.S. Army Health Clinic Stuttgart, DSN: 590-1713/civ. 06371-9464-1713.