By Daniel L'Esperance
Stuttgart Elementary School
More than 120 Stuttgart Elementary School second graders are being challenged to read 100 books each this year.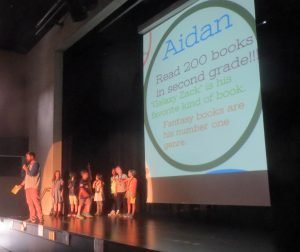 Current third grader students shared their experience and inspiration to the second graders during a presentation led by teacher Peter Watt, Sept. 16, in the elementary school located on Panzer Kaserne.
All SES second graders of the 2016-17 class are encouraged by their peers and teachers to beat last year's record of 8,800 total books read.
Readers have the opportunity to earn a place into The 100 Club in three levels of achievement:
50 books –  Bronze
75 books – Silver
100 books or more – Gold
Medals and prizes are awarded throughout the school year. Club members also enjoy an end-of-year party at the school to share their success.
Let the reading begin!