USAG Stuttgart Public Affairs Office and the School Liaison Office
U.S. Army Garrison Stuttgart's Department of Defense Education Activity (DoDEA) schools participated in the week-long Red Ribbon Campaign, Oct. 24 – 28. The national Red Ribbon Week campaign began as a way to heighten awareness of drug prevention and commemorate the death of U.S. Drug Enforcement Administration Agent Enrique Camarena, who was killed in the line of duty in 1985 while investigating a drug ring in Mexico to fight the use of drugs in America.
In recognition of Red Ribbon Week, students in Stuttgart's elementary schools took part in various activities and themed days such as Pajama Day, Crazy Hat and Hair Day, and of course, dressing in red.
"Every day this week, students pledge remain drug free in a different and creative way," said Daniel L'Esperance, of Stuttgart Elementary School.
Kindergartners at Stuttgart Elementary School dressed up for a story-book themed pre-Halloween parade to, "Say Boo to Drugs," as part of Red Ribbon Week, Oct. 28. Fourth grade students also joined in the parade with a Vocabulary theme, designing costumes representing their favorite vocabulary word. Other grade levels attended in Halloween colors with teachers and parents to cheer students on during the event.
Middle schoolers participated in similar activities, in addition to Resiliency Workshops. The intent of the resiliency program is to provide each student an opportunity to build and strengthen their skills to cope with daily life stress and challenges.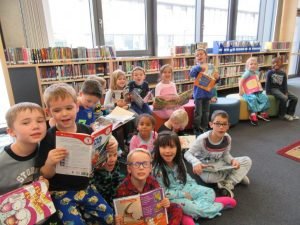 Students were given the opportunity to attend three of the 13 offered topics related to resiliency and Red Ribbon Week: Laughter Yoga, Stress Relief through Art, Battle of the Genders, Manga Drawing, Red Ribbon Week Jeopardy, Zumba, Challenges of Changing Schools, and more.
High School students from the National Honor Society also conducted workshops related to sign language, soccer, cheerleading, and teamwork and leadership to guide the students understanding of how these types of activities and skills can help to build resiliency not only in ourselves, but also in others; and how students can have fun without using drugs and alcohol.
Workshop presenters included the Patch Middle School Counseling Den team, Military Family Life Counselors, Child, Youth and School Services, Army Substance Abuse Program, School Liaison Office, Master Resilience Trainer from the U.S. Army Medical Command, and the Stuttgart High School National Honor Society.
Representatives from each of these organizations donated their time and knowledge to help every student better understand the significance of Red Ribbon Week, and build skills and strategies to gain awareness and control over becoming the best version of themselves they can be.
Children of parents who talk to their teens regularly about the dangers of drugs are 42 percent less likely to use drugs than those who don't, yet only a quarter of teens report having these conversations, according to the National Family Partnership.
[slideshow_deploy id='25868′]