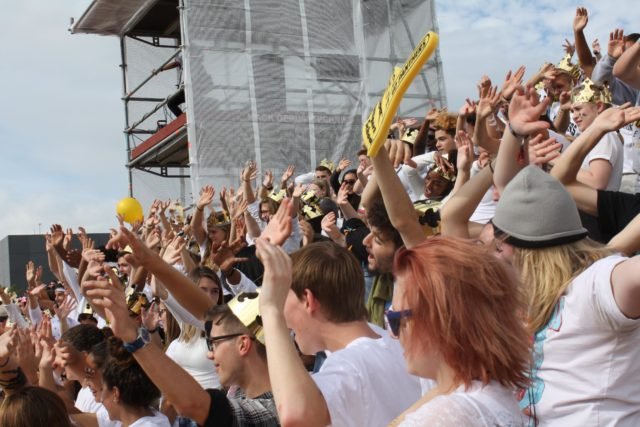 By Alisha Pabon
Special to The Citizen
Stuttgart High School hosted its annual 2017 fall pep rally to kick-start the homecoming weekend and football game against Kaiserslautern, Sept. 29.
Nina Gante, senior class president, lead the pep rally along with Hannah Cahill, student body president.
"It went better than we both expected. I was nervous, but being up there with Hannah turned out to be fun. I was stoked to be able to represent my school and class," Gante said.
The homecoming court princes, princesses, king and queen were announced, followed by a two-legged race against each pair of nominees. "The two-legged race was chosen because pep rallies need a funny activity and since this year, the boys Powderpuff did not happen, this was the way we decided to go," Gante said.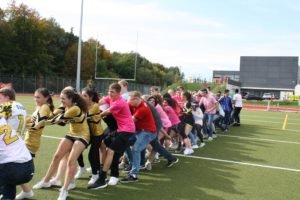 The tug-of-war battle brought out the competitiveness between classes. Each class selected students to participate but, as the battle took place, more students quickly stormed the field to assist.
A cheer performance during half-time to the song "Rolex" by Ayo & Teo, included risky stunts and tumbling.
The SHS band performed the National Anthem and entertained the crowd with a rendition of "Despacito" by Luis Fons, featuring Daddy Yankee and Justin Bieber.
At last, each freshmen, sophomore, junior and senior student individually shouted the traditional "red hot" chant to see who could be the loudest.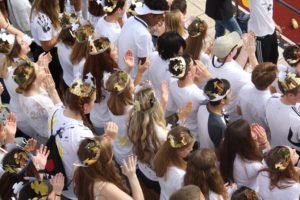 Once it was almost time to go, the winner of the pep rally was announced and this year, the seniors were crowned winners. To wrap it up, the football team also beat Kaiserslautern 61-12, setting of a winning streak for the season.
Read about the game and stay up-to-date on the Panthers team through the year.
Editor's Note: Alisha Pabon is a senior at Stuttgart High School and is a part of the Career Practicum program for the garrison Public Affairs office. She is interested in majoring journalism and communications.