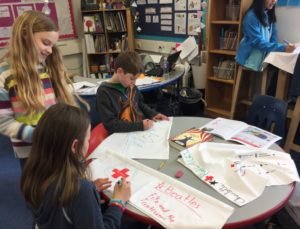 By Holly DeCarlo-White
USAG Stuttgart Public Affairs Office
The American Red Cross Stuttgart Station helps community members in the Stuttgart military community to be prepared for anything when it comes to emergencies. Children are no exception.
Red Cross volunteers brought the first Pillowcase Project, a youth preparedness program, to 48 third through fifth graders at Patch Elementary School on Panzer Kaserne, March 21.  March is also recognized by U.S. presidential proclamation as Red Cross Month.
"The Pillowcase Project started after Hurricane Katrina when the Red Cross saw that university students were grabbing their important belongings and stuffing them into pillow cases. The Red Cross implemented this program where you use your pillowcase as an emergency preparedness kit," said Kathleen Wilmes, Disaster Services Program lead at Red Cross Stuttgart Station.
In the past decade, the Pillowcase Project has helped countless children better plan for their future. Red Cross volunteers spoke with students about items they need to make an emergency kit, including how to develop a way to contact household members in an emergency situation. Each student received a pillowcase to decorate and personalize to take home and build together with their families.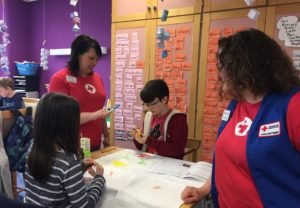 Students also learned about the importance of fire safety in the home.
"It is the number one hazard that happens world-wide, no matter where they live," said Wilmes.
The U.S. Fire Administration National Fire Data Center reports that more than 3,000 deaths per year occur in the U.S. alone as a result of fire.
In addition to general emergency preparedness scenarios, another big lesson the Red Cross has taken from the Hurricane Katrina disaster is the need to train children on how to handle the emotional trauma an emergency event can cause.
Stuttgart volunteers talked to students about coping skills, both during and after an emergency situation.
"We encourage them to go home and share those skills with their grownups and loved ones," Wilmes added.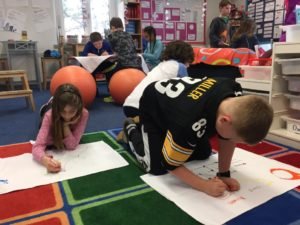 The RedCross.org website has a variety of helpful resources for adults and children to prepare in the face of tragedy, including the following tips:
Stay informed, but limit exposure to media coverage of the events.
Take care of yourself. Eat healthy, drink plenty of water and get enough rest.
Be patient with yourself and others. It's common to have any number of temporary stress reactions such as anger, frustration and anxiety.
Stay connected with your family and other support systems. Reach out and accept help   from others.
Encourage children: to express their feelings and thoughts. Reassure them about their safety.
For training and information, contact Red Cross Stuttgart Station at DSN: 431-2812/civ. 07031-15-2812.
For on-post emergency preparedness information and tips, contact the USAG Stuttgart Protection Branch at DSN: 431-2031/civ. 0703-115-2031.