[slideshow_deploy id='37941′]
By Bardia Khajenoori
USAG Stuttgart Public Affairs
More than three dozen Patch Middle School students participated in an annual Reading Exhibition in the school's cafeteria, April 13.
One by one, students from each grade went onstage—facing an audience of teachers, parents, judges, fraternity representatives and fellow students—to briefly introduce and read from a piece of literature that inspired them.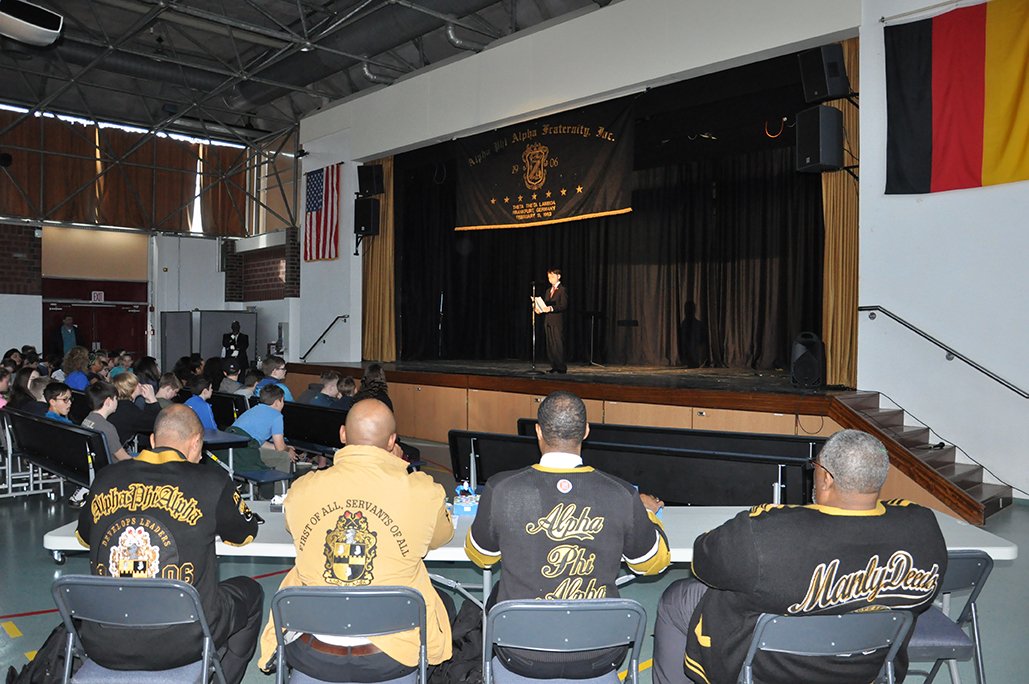 The event, presented by Alpha Phi Alpha Fraternity, Inc., was opened by Heidi Malarchik, USAG Stuttgart deputy to the garrison commander, who introduced herself as a "voracious reader" who might get through two or three books over the course of a single weekend. Books "allow you to make a connection with an author and characters who may have lived a long time ago or who have a completely different perspective to your own," said Malarchik.
The students shared a variety of works ranging from famous presidential speeches and the poetry of Langston Hughes to a ringside talk by wrestler John Cena. One student read from Harry Potter in a British accent while another revealed her past experience of being bullied before launching into an impassioned rendition of Maya Angelou's poem, "Still I Rise."
Awards were presented by a team of school faculty members on presentation quality and creativity, among other factors. Some presenters went the extra mile, for example donning a suit and tie for an excerpt from John F. Kennedy's inaugural address or a New York Yankees uniform for a speech by baseball legend Lou Gehrig.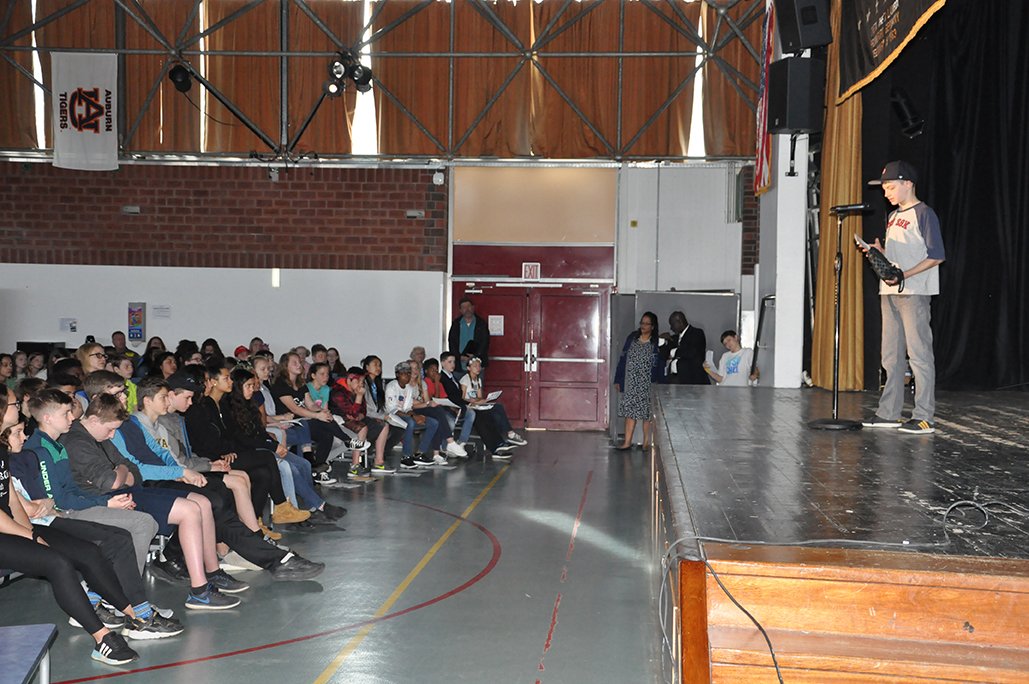 Seventh-grader Gray Bayless came dressed in a Roman toga to present a monologue from Shakespeare's "Julius Caesar," reading from a scroll as he asked his audience to lend him their ears. He said he was moved by the relevance of the content to today's world, despite the words being written in the 16th century for a character who lived over two thousand years ago. "It's nice to let people relate to what you're saying," said Bayless, as he described some common themes such as betrayal and the potential influence of a single individual.
According to Elvert Gardner, vice president for the Germany alumni chapter of Alpha Phi Alpha, the fraternity's twelve-year-old partnership with DoDEA schools is a key part of its efforts to encourage college attendance and graduation, as well as lifelong educational achievement. Reading is a fundamental part of that process, explained Gardner, but it's also a two-way exchange that varies for each person.
"When you read, it's not only the book bringing something to you, but also you bringing something to the book," he said. "Different readings will inspire different people, and it's exciting to me to see children so excited about literature."
(Editor's note: The slideshow photo are by students Maci McDowell, Abigail Ticknor and De'Shawn Larson.)