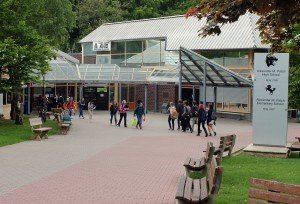 Patch High School students won 23 medals during the Department of Defense Dependents Schools Europe Future Business Leaders of America Conference March 26-27 at the Edelweiss Lodge and Resort in Garmisch.
FBLA prepares students for careers in the business world.
During the conference, students competed in events testing their business knowledge and skills in a variety of business -related areas. Events are judged and scored, and at the end of the conference, awards are handed out to the three students with the highest scores in each event.
For team events such as Digital Video Productions and Business Presentation, students were given the opportunity to research and develop presentations before the conference, then delivered their presentations to the judges.
Students competing in individual events such as Client Service were presented with a scenario, given a few minutes to prepare, then role played with the judges, demonstrating skills in interacting with clients to solve a client issue.
In Impromptu Speaking, participants were given a topic and had 10 minutes to prepare a speech before appearing before the judges. "Through the FBLA experience I've become a more effective business person in my speaking abilities. I did impromptu speaking and public speaking, and both of those together really helped to shape me as a speaker," said Will Ritter, who took firsts in four events, including Impromptu Speaking.
Jen Huggins, who placed in three Events, agreed. "I thought we were able to implement tools that are useful for our future. It exercised a lot of things that you don't get to exercise as much in school," Huggins said.
"I thought the FBLA Conference was great. It's definitely a good stepping stone and a good intro into the business world …," said Blue Bowen. "This year Mitchell Bailey and I did a comedy routine at the talent show that was just kinda out of the blue and we won first place… a little business and a little fun."
Lizzie Hodges and Elise Wimmer ran for — and were elected — as FBLA State Officers for the 2014-2015 conference. To do so, they submitted resumes, applications and interviewed for the slots.
"I'm pumped," said Hodges. "I'm on the media and technology board, responsible for the tech, sound, writing, speaking and videos. I already started going through everything. It's going to be a lot of work, but I think it's going be a lot of fun.
Throughout the conference, students could partake in a number of activities when not competing, such as a scavenger hunt, talent show and network with other business-minded students.
The PHS students also got to experience a traditional Bavarian dinner at a restaurant in Garmisch, prearranged by the students'
chaperone.
PHS FBLA results
Jen Huggins: 1st, Business Law; 3rd, Business Procedures; 3rd, Impromptu Speaking.
Becca McKiernan: 1st, Management Decision Making; 2nd, Global Business.
Blue Bowen: 1st, Sports and Entertainment Management; 1st, Business Presentation.
Shane Reagan: 3rd, Management Decision Making; 1st, Banking and Financial Systems.
Jacob Lindman: 1st, Hospitality Management; 1st, Bank and Financial Systems.
Joseph Cook: 1st, Business Math; 1st, Business Presentation; 2nd, Economics.
William Ritter: 1st, Business Presentation; 1st, Impromptu Speaking; 1st, Accounting; 1st, Global Business.
Mitchell Bailey: 1st, Banking and Financial Systems.
Aly Littlejohn: 3rd, Entrepreneurship; 1st Client Service.
Baileigh Sessions: 3rd, Hospitality Management.
Lexi Pache: 1st, Networking Concepts.