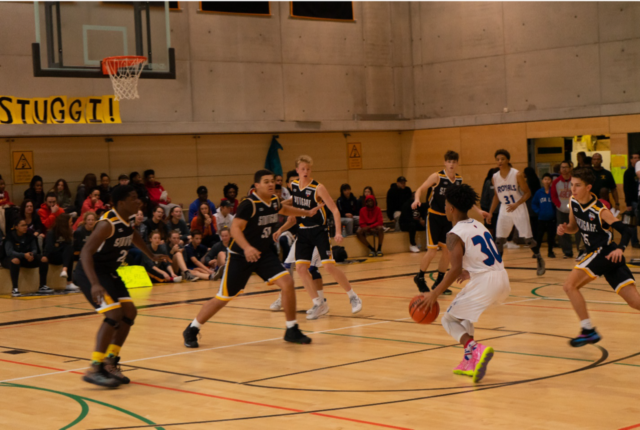 Story and photos by  Michael Collier
USAG Stuttgart Public Affairs
The Stuttgart Panthers played their first home game of 2020 against the Ramstein Royals in an intense, competitive match. Despite some setbacks, the boys varsity team held their ground, Jan. 11.
The boys' varsity team had a harder time fending off the Ramstein royals, losing Friday's game 38-40 in the last five seconds of overtime play.
 "It was a two-point game," said former Panther David Paulin. "They called a bluffing foul on one of our guys, which should have been a blocking foul."
Panther Sam Schudel, jersey number 20 , didn't think they played as well on Friday.
"We definitely felt like we should have won yesterday, and we came back and just knew we were the better team," Schudel said. "We gotta keep it up and it's all about Euros at this point."
Coming back from the loss, the Stuttgart Panthers won the second game of the weekend, with the team managing to score an additional three points in the last 21 seconds and ultimately winning with a 44-38 margin over the Royals.
"Our teamwork is a lot better from where we started, in the beginning we did not know each other very well. We just kept progressing…I think [Ramstein] was undefeated and I think we'll just get better and better," said  Cardy Moten, jersey number 50.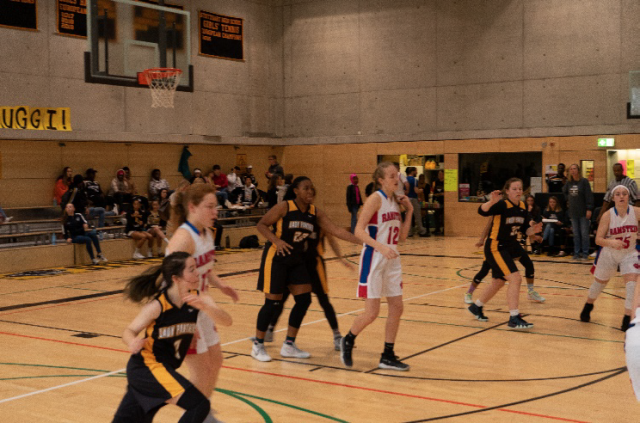 Alongside the boys, the Lady Panthers played a very aggressive game, following up their Friday night victory with a 49-20 victory to continue their winning streak into the New Year.
"I know my team feels great; we played hard," said Skye DeSilva Mathis, Lady Panthers varsity team. "We played a really good team. It was good to see some competition … I think what led us to win was our chemistry on the team, our passing and just overall communication. Ramstein played a tough game and they really showed us how to work."
Tense at first, Panther fans were thrilled with Saturday's outcome. Spectator Scott Templeton said, "it was the most physical game I've seen all year, really intense."
"They played pretty great today, great intensity and hopefully they can bring it into Euros," said Gavin Ashley, former Panther and college freshman. "Ramstein played pretty good. They've always been a powerhouse. It's gonna be good to see them compete in Euros."