By Hannah Rhoden
Senior, Stuttgart High School
Special to The Stuttgart Citizen
Members of the Stuttgart High School Panthers Cheer Team started its season by attending the annual Universal Cheerleading Association (UCA) Labor Day Cheer Camp, hosted by Kaiserslautern High School, Sept. 1-3.
Along with SHS, Kaiserslautern, Ramstein, Rota, Vilseck, Wiesbaden, and Brussels, participated in the cheer camp.
Six UCA staff members from around the world taught each team two dances, four sideline cheers, a band dance and more than  10 advanced stunts. Each team also created two routines about two minutes long that were later showcased for parent viewing on the last day of camp.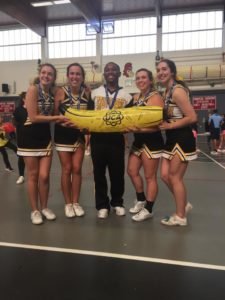 On the last day of camp, coaches picked their team's best cheerleaders to compete against the best cheerleaders from the other schools for the title of "All American Cheerleader." Stuttgart submitted 10 cheerleaders for auditions; five were selected as All American.  Each cheerleader selected was awarded a medal and an invitation to the Varsity All American London Tour on New Year's Day. This year's Stuttgart winners are; Amanda Fuglaar, Sean Collins, Hannah Rhoden, Payton Godlewski, and Maddie Haggard.
Stuttgart took home the prize trophy, the "Top Banana," which was awarded to the team with the most spirit at the end of the three-day camp. The Panthers also took home first-place trophies for Best Overall Performance and Best Band Dance Performance. The cheer team also took home the second-place trophy for Sideline Cheer Performance.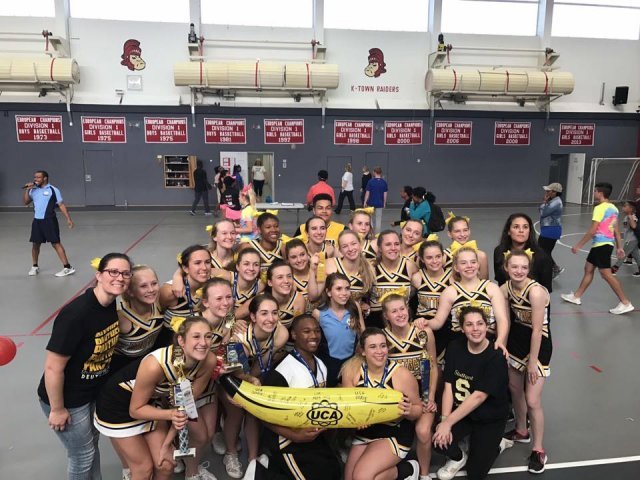 The SHS cheer team will continue its fall season by cheering for the Junior Varsity and Varsity football teams during all upcoming games.
To follow the fall SHS sports schedule, visit the School Calendar.
Editor's Note: Hannah Rhoden is a senior at Stuttgart High School and is a part of the Career Practicum program for the garrison Public Affairs office. She is a varsity cheerleader and the JROTC command sergeant major at SHS.