Department of Defense Education Activity Europe Public Affairs
The Department of Defense Education Activity celebrated its 70th anniversary during the 2016-2017 school year, continuing the tradition of excellence in education since Oct. 14, 1946.
Shortly after the end of World War II and the arrival of military families overseas, schools for the children of American service members opened at 43 locations in Germany, Austria and Japan with 116 teachers and 1,297 students. From these humble beginnings with classrooms sometimes in Quonset huts or factory buildings, the Dependents School Service grew into an organization supporting an estimated 160,000 students in 300 schools around the world.
Dr. Beth Stephens, former director for one of DoDEA's predecessor agencies in the mid-80s, once said, "At no time in history has any other nation educated 150,000 of its children in 20 countries around the world and made it possible for them to understand and experience the culture of their host nations while maintaining their identity with and patriotism for their own country."
As the Cold War came to a close, U.S. military forces abroad began to draw down as did the schools and communities supporting families stationed overseas and all the schools serving military-connected students, in the U.S. and abroad, came under the umbrella of a new parent agency, DoDEA, in 1992.
Today's DoDEA operates 168 schools in eight districts across 11 countries, seven U.S. states and two U.S. territories for more than 73,000 students. Its current footprint is configured to provide 21st-century instructional facilities and a world-class education in the areas where service members and their families are located, and it maintains the organizational flexibility required to adapt to the evolving needs of the military services it supports.
Although the logos and organizational names have changed over the years, DoDEA's core mission remains the same: To educate, engage and empower each student to succeed in a dynamic world. The DoDEA vision – to be among the world's leaders in education, enriching the lives of military connected students and the communities in which they live – remains constant.
"I am honored to be part of this organization ­– a model college and career ready school system that serves the children of those who serve our great nation," said current director Tom Brady, whose children attended DoDEA schools. "Students are the heart of everything we do in DoDEA and I am so proud of the dedicated educators and staff on our team that strive each day to build upon the legacy of excellence and commitment established so long ago."
For information on schools and school programs within U.S. Army Garrison Stuttgart, visit: https://stuttgart.armymwr.com/programs/school-liaison-officer-slo.
Stuttgart garrison community K-12 schools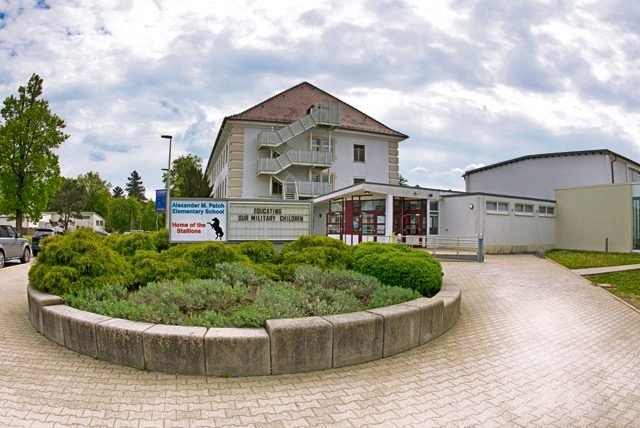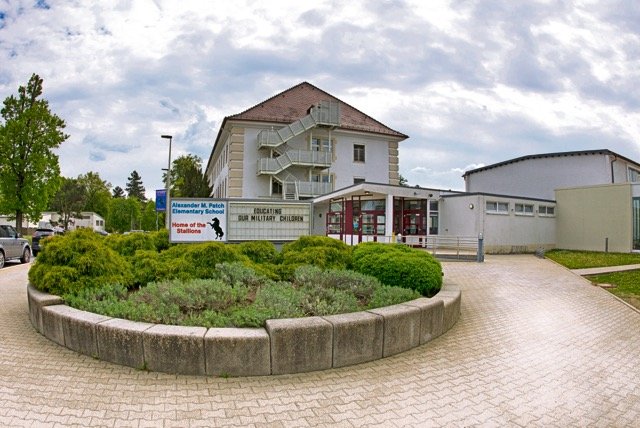 Patch Elementary School
Unit 30401, APO AE 09107
DSN: 431-4900 or civ 0703-115-4900
School hours are 7:55 a.m. – ­2:30 p.m.
Patch Elementary School was built in the 1930s. The school prides itself on a very active Parent-Teacher Association and School Advisory Committee, and emphasizes the partnership between the school and parents. PES offers the standard DoDEA K-5 curriculum, including a robust special needs program for both students with special needs, and gifted and talented students.
Temporarily located in Bldg. 2918 on Panzer Kaserne, PES serves a student population of about 470 students with 75 teachers and administrators. The school is set to return to its previous location on Patch Barracks once the new school project is complete.
Recent extracurricular activities include running, yearbook, art and robotics clubs, yoga, chorus, "Just Dance" and a student council. The school's mascot is a stallion.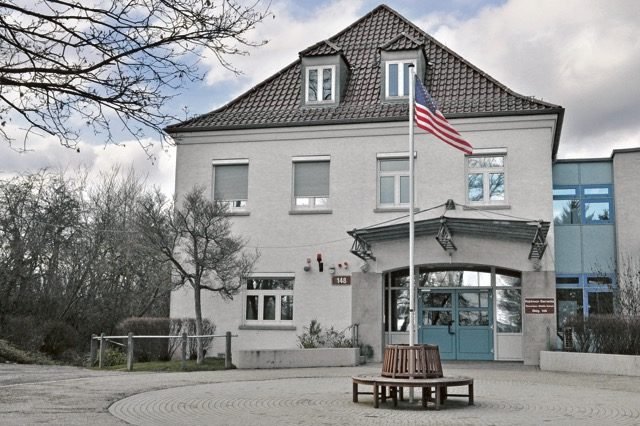 Robinson Barracks Elementary School
Unit 30401, APO AE 09107
DSN: 430-9337 or civ. 0711-680-9337
Bldg. 148, Robinson Barracks
The school day begins at 8 a.m. and ends at 2:30 p.m.
Robinson Barracks Elementary School opened in 1953 in a building that previously held a military hospital for U.S. forces. The school has undergone several changes to its academic structure over the years, alternating between an elementary school and an elementary/middle school. Renovations and modernizations occurred in the late 1980s and early '90s. The school offers the standard DoDEA curriculum and provides extracurricular activities.
The school educates a student population of about 280 in kindergarten through fifth grade, with a staff of approximately 45 teachers and administrators.
RBES values strong community school relationships that are essential to high academic achievement. It believes that successful schools include parents and community members that are involved and supportive. The community recognizes the value of educational and extracurricular activities, and RBES expects their students to excel both inside and outside of the classroom.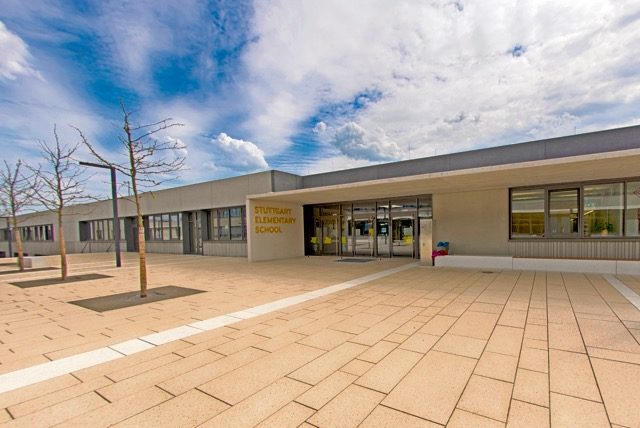 Stuttgart Elementary School
Unit 30401, APO, AE 09107
DSN: 431-4100 or civ. 0703-115-4100
Stuttgart Elementary School, previously known as Böblingen Elementary School, shares a new school complex on Panzer Kaserne with Stuttgart High School. It has a student population of about 630, with a staff of 70 teachers and administrators.
SES believes in students, parents and community leaders working together in partnership with teachers. The school supports programs that encourage parent involvement and building a strong parent-school partnership. Family nights, parent-teacher conferences, parent advisory groups, awards programs, classroom volunteers, parents as resource persons in the classroom and parent chaperones are just a few of the ways it's built an effective parent school partnership.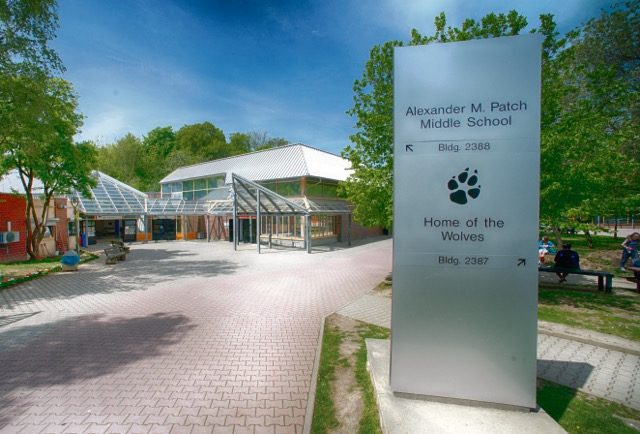 Patch Middle School
Unit 30401 APO, AE 09107
DSN: 430-7191 or civ. 0711-680-7191
Bldg. 2388, Patch Barracks
This school runs on an alternating daily schedule with A Days and B Days.
Patch Middle School is the only middle school serving the entire Stuttgart military community, with approximately 650 students and 65 staff members.
PMS offers a diverse set of classes.  In addition to the core subjects of math, science, languages and social studies, it offers many classes in art, music and technology to students in grades 6-8.  Students have the opportunity to take advanced classes in foreign languages and mathematics. This challenging and engaging curriculum ensures that the students of PMS are on the path to be college and career ready
PMS offers varying extracurricular activities in art, astronauts, band, chess, debate, drama, jazz, robotics and more.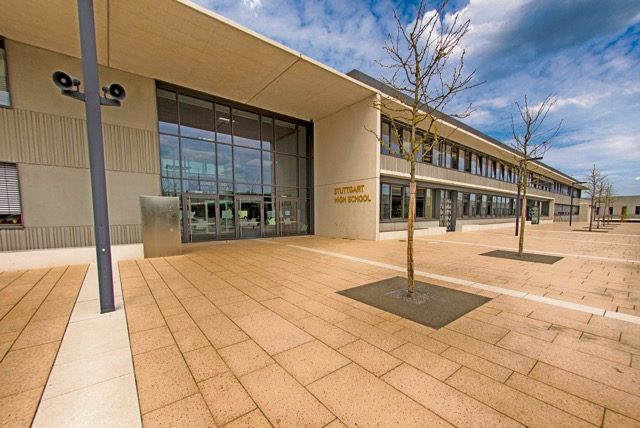 Stuttgart High School 
Unit 30401, APO, AE 09107
431-4000 or civ. 0703-115-4000
SHS runs on a split eight period schedule with alternating days. Gold Days are periods one through four, and Black Days are periods five through eight.
Stuttgart High School at Panzer Kaserne, originally founded as the Alexander M. Patch American High School in 1979, serves a student population of about 750 students with 55 teachers and administrators.
The school states it has the largest number of advance placement courses offered and the highest average AP scores in DoDEA. SHS offers a variety of the following DoDEA curriculum courses: English (including advanced placement and honors courses), mathematics (algebra through advanced placement calculus), science (physics, chemistry, anatomy, biology, etc.), German, French and Spanish languages, computer courses, fine arts (humanities, band, art, chorus), history, business and career and technical electives, as well as other activities.
The school has an active Junior Reserve Officer Training Corps program, as well as extracurricular programs in football, golf, tennis, cross-country running, volleyball, wrestling, basketball, rifle marksmanship, swimming, cheerleading, track, soccer, baseball, softball and military drill team.
Note: All DSN phone numbers are prefix 314 in Stuttgart.