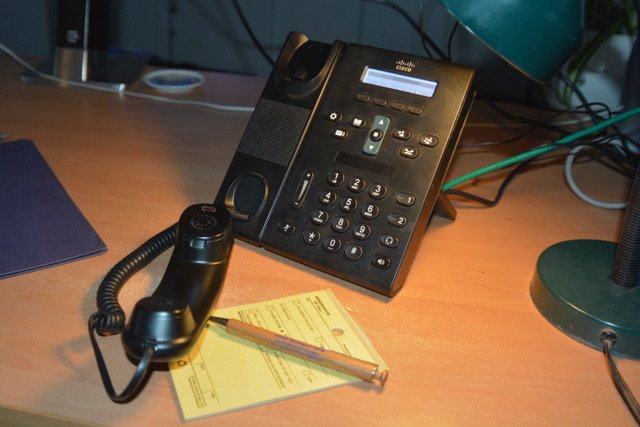 Story and photo by John Reese
USAG Stuttgart Public Affairs
The engineering leading to Voice Over Internet Protocol, better known as VOIP, goes back to the early days of the ARPANET, before it grew into the internet, in the 1960s-1970s. The use of VOIP by the US Army Garrison Stuttgart goes back about a year, and the change from a landline to a computer-driven telephone network meant that roughly 99 percent of the garrison DSN phone numbers changed.
"Basically, what is means that instead of the signal being routed via cable, the signal is now being routed over the same rail as your internet," explained Dexter Nelson, garrison IT specialist. "It's the same way you'd go on to Google."
To be clear, the recent switch to VOIP by the garrison affected only garrison telephone numbers. For example, the phone number for the garrison headquarters previously began with 431. With VOIP, the new HQ number begins with 596. (The DSN prefix for Germany remains 314.)
Unlike landline telephones of the past, the garrison's VOIP phones are specially tailored to work on the internet.
"The biggest advantage of VOIP is that it's less costly, because now it's going the same route as you basically going on your system, pulling up a webpage and carrying out business," Nelson said. "So it's no longer required to be connected from the device, plugged into a port and then going through a server."
The savings comes much like using the internet to make calls, send texts, etc. The Army doesn't need to spend money with telephone corporations.
VOIP is Army-wide and was already common for years for the Army throughout the continental U.S. before it arrived in Europe. Like your office computers, peripheral devices and milk at the commissary, VOIP phones have a targeted lifecycle of use before replacement.
"VOIP allows the Network Enterprise System to manage the phones the same way we do for computers, printers and other devices," Nelson said. "We have the ability now to push software and firmware updates to the phone."
Receivers on the garrison's VOIP phones indicate when it is undergoing an update.
There are still a few phones being swapped out for the Directorate of Public Works, which chose a different model VOIP phone than the other directorates. The government's security features must be met before switching from landlines. Regardless of phone model, as an Army telephone network, security measures are part of the system.
"The phone that the garrison put in place had to meet security parameters," Nelson said. "That, for us, is important."