By Larry Reilly and Holly DeCarlo-White
USAG Stuttgart Public Affairs
The Stuttgart Military Community recognized National Holocaust Observance week, April 23-30, with remembrance events on the Stuttgart Army Airfield (SAAF) and at Kelley Barracks.
SAAF Observance
On April 24, official Holocaust Remembrance Day, U.S. Army Garrison Stuttgart Commander, Col. Glenn Dickenson and Command Sgt. Maj. Mariano Alvarez played host to more than 20 members of the Israelite Religious Community of Baden-Württemberg, who came to SAAF to extend their respects and prayers to the 34 Holocaust victims buried at a memorial site on SAAF.
During the memorial service, Chief Wuerttemberg Rabbi, Netanel Wurmser, recited the Kaddish (prayer for the departed) and led the group in the "el male rachamin" (chant for the Shoah victims). Those in attendance were encouraged to place white stones on each of the 34 graves as a sign to others that someone has visited the graves. The stones are symbols of the lasting presence of the deceased's life and memory.
The remains of the 34 Holocaust victims were first discovered in 2005 during excavation work at the main entrance to SAAF. The current memorial site was unveiled in April of 2007 and a memorial service has been held each April at the SAAF site in remembrance of the Holocaust victims.
Kelley Barracks Observance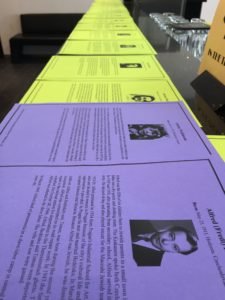 On April 25, the U.S. Africa Command Equal Opportunity Office hosted a Holocaust observance event at the Kelley Theater on Kelley Barracks with members of USAG Stuttgart's command team, and community members from all branches of service in attendance.
Profiles of individuals who lost their lives in the various concentration camps during World War ll were placed on tabletops in the theater for attendees to read and contemplate the sacrifices, tragedies and death that thousands of Holocaust victims faced.
Showcased during the event was a documentary film on Holocaust survivor Israel Arbeiter, and his visit back to Auschwitz-Birkenau with his son. Although Arbeiter was able to escape death on several occasions during the war, his parents and his younger brother were killed.
"Each year we gather in remembrance and come together as allies to prevent atrocities like these from ever happening again," said Col. Glenn K. Dickenson, USAG Stuttgart commander as he reflected on the two remembrance observances.
View a clip from the documentary below:
The U.S. Congress established Days of Remembrance, the nation's annual commemoration of the Holocaust. The dates vary annually in accordance with the Hebrew calendar.  This year's observance period is April 23-30 with Holocaust Remembrance Day on April 24.
Read more about the memorial is located at the Stuttgart Army Airfield  here.