By Becca Castellano
U.S. Army Garrison Stuttgart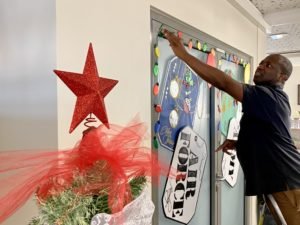 Kaymi Kurfis was dreaming of a white Christmas in Lapland, Finland until the dreaded email cancelling her flight arrived.
"It was the cherry on top of a year full of disappointments," said Kurfis, a Robinson resident. "This is our last Christmas in Europe and we wanted to take our daughter to see Santa at the North Pole."
Kurfis' story is not unique as families throughout the Stuttgart military community have been forced to cancel Christmas plans due to COVID-19.
"If anyone understands what it means to sacrifice something for the greater good, it's the military family."
Eli Scudder's family of five usually spends the holidays surrounded by loved ones in the Czech Republic. 2020 will mark the first time in four years that they will celebrate at home. Although she will miss her extended family, Scudder said there are some perks to staying local.
"We're going to be here but I am actually a little excited about it," she said. "Instead of running around buying food and packing and loading gifts and kids and the dog into the car, we'll have a low-key cozy Christmas at home."
Inspired by their favorite Christmas markets, which were also cancelled due to COVID-19, the Scudders are filling their home with the sights, sounds and smells of a traditional German Christmas.
"We're really going to miss the atmosphere of the markets so we're creating our own," she said. "It's amazing what some little lights can do. We have so many candles and lights that we're sitting in the dark trying to see our plates to eat but the kids just love it. You can really feel the Christmas spirit."
Between snowshoeing adventures, building gingerbread houses, baking a "gazillion" cookies and warming up with gluhwein, Scudder is certain they will have a memorable Christmas.
"There is so much going on right now, so much doom and gloom out there, but it just takes one little candle, just a little bit of music to feel joy," she said. "If you can't get a tree, get a branch in the forest and decorate it. Celebrate all that you do have this year and feel gratitude and peace."
For those arriving just before the holidays, it might be difficult to feel gratitude for empty apartments and cancelled festivities, but Sarah Merino said her family has been overwhelmed with the support they have received from their new community.
"We already love it here," said Merino, who moved to Robinson Barracks in October. "PCSing during COVID has been the hardest move yet but everybody here has been so patient and helpful in answering my millions of questions."
Although their household goods won't arrive until the new year, she was able to snag a Christmas tree and ornaments on Facebook marketplace and her family plans to mix some German recipes into their tradition of baking cookies on Christmas eve.
"We'll spend the evening watching movies and playing games and hopefully on Christmas day we can find some pretty lights to go look at," she added.
Despite COVID-19's effect on holiday plans, military families in Stuttgart will celebrate with loved ones who are near, and virtually with those back home, just as they have for generations.
"Of course, we're disappointed that we're not going to get to see Santa at the North Pole, but we've been missing big moments like weddings and births and holidays long before COVID came to town," said Kurfis. "If anyone understands what it means to sacrifice something for the greater good, it's the military family."