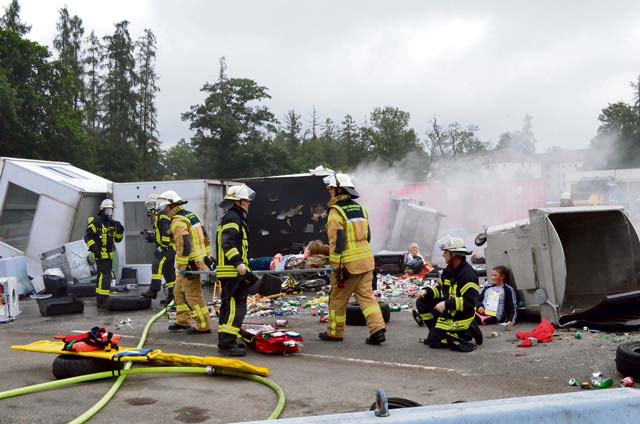 By S.J. Grady
USAG Stuttgart Public Affairs Office
U.S. Army Garrison Stuttgart put its disaster response capabilities to the test during an all-hazards training exercise held July 12 on Kelley Barracks.
Stallion Shake 2014 was designed to assess various aspects of the garrison's emergency management plan, to include communications, random antiterrorism measures, intelligence information sharing and analysis.
Using a vehicle borne improvised explosive device scenario, the exercise not only tested the garrison's defense and response capabilities, but those of the city of Stuttgart's first responders as well.
The garrison relies on support from the host nation, and training together serves to strengthen the ties between U.S. and host nation law enforcement, fire departments and other first responders, according to Jeremiah Cowgill, the garrison emergency manager and exercise coordinator.
"In a real incident, all of these people will be working together," he said.
For the last nine months, U.S. emergency management, antiterrorism and law enforcement personnel have worked with emergency responders from the Polizeipräsidium Stuttgart (Stuttgart police headquarters), Feuerwehr Stuttgart (Stuttgart Fire Department), Deutsches Rotes Kreuz (German Red Cross), the Deutsche Lebens Rettungs Gesellschaft (German Life Saving Association), Malteser Hilfsdienst and Johanniter Unfallhilfe (emergency medical service providers) to plan the exercise.
Everyone profits from the training, according to Dr. Jürgen Ruppert, a member of Stuttgart's Leitender Notarzt (Lead Emergency Physician Group).
" … Everyone is able to benefit from it, and we are able to learn so much. This gives us the opportunity to learn with and from each other, whether it's coordinating, communicating or operating. The improvement of our teams throughout these exercises is immense," he said.
To make the training as realistic as possible, exercise planners enlisted the help of more than volunteers from across the Stuttgart military community to act as victims and role players.
Moulage specialists with the German Red Cross applied simulated injuries on many of the victims, using fake blood, makeup and liquid latex to replicate burns, broken bones, head injuries and chest wounds.
Once the exercise started and the site was secured by Military Police, USAG Stuttgart firefighters and approximately 150 host nation first responders arrived to triage, treat and transport the injured.
Those who were uninjured were evacuated by bus to a Family Assistance Center that was activated on Panzer Kaserne. Social work services counselors, chaplains, representatives from Army Community Service and other organizations were on hand to provide services and assistance to those affected by the emergency situation.
The garrison Emergency Opera-tions Center was also activated. Personnel drilled on notifying the community, coordinating with military and host nation authorities, managing resources and communicating with incident commanders, according to Ben Loney, the EOC manager.
He added the exercise allowed the garrison to practice increasing its protection posture at all its installations to Force Protection Condition Charlie and Delta, and use the Giant Voice and AtHOC emergency mass notification systems.
"As with any exercise, we were testing our capabilities to communicate with military units and the community at large," said Loney.