U.S. Army Garrison Stuttgart Public Affairs
The life of Dr. Martin Luther King Jr. was commemorated, Jan. 11, at the Kelley Theater Center on Kelley Barracks.  The event was hosted by the U.S. Army Garrison Stuttgart Equal Opportunity Office and U.S. Africa Command. The theme of the observance was "Remember! Celebrate! Act! A Day On, Not A Day Off!!"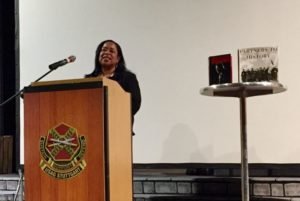 The guest speaker was Juandalynn R. Abernathy, whose father Rev. (Dr.) Ralph D. Abernathy was a co-founder of the Civil Rights Movement. He was a close friend to King, and after King was assassinated, Abernathy was King's successor.
Abernathy reminded attendees how important is is to never forget our history, or it is destined to repeat itself.
"We must unite as true believers in democracy…we've got to get our message out there," she said, "…we are all the same."
The federal holiday honoring King is Monday, Jan. 16. The day celebrates the life and legacy of a man who brought hope and healing to America, said Sgt. 1st Class Mark C. Quintanilla, advisor, USAG Stuttgart Equal Opportunity.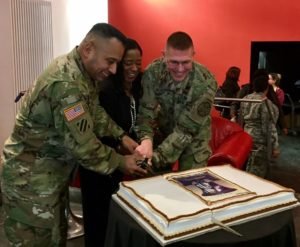 "On this holiday, we commemorate the universal, unconditional love, forgiveness and nonviolence that empowered his revolutionary spirit," Quintanilla said.
King taught us timeless values through his example, Quintanilla said, noting those values were "courage, truth, justice, compassion, dignity, humility and service that so radiantly defined Dr. King's character and empowered his leadership."
For more information or to participate in future observances, call the garrison EO at DSN 430-7945.
To view more photos from the event, click here.