U.S. Army Garrison Stuttgart was one of two garrisons named as Most Improved (and the only overseas garrison to be recognized) in the 2014 Army Communities of Excellence program in an announcement released to the garrison April 21.
USAG Stuttgart will receive a $10,000 monetary award.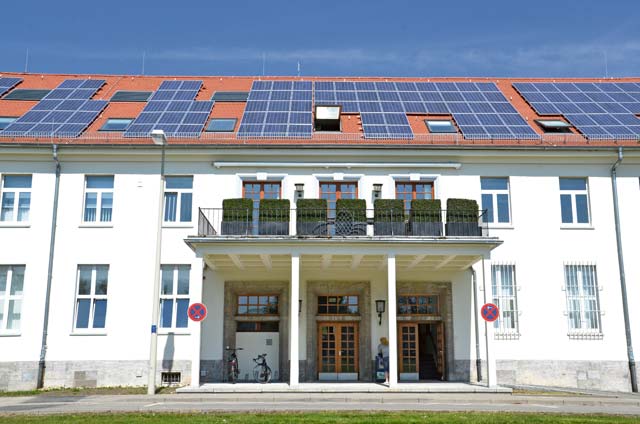 The ACOE program is based on the principle that communities support people best by combining excellent services with excellent facilities in a quality environment. The ACOE awards, which have been presented since 1989, are given annually to the Army installations scoring highest in the Army Communities of Excellence
competition.
By using criteria established for the Malcom Baldrige National Quality Award as a framework for performance assessment, the ACOE program helps participating Army installations/communities focus on providing excellence in facilities and services in support of Soldiers, their families and civilians.
Baldrige-based performance assessments provide opportunities to identify best practices in installation management and reveal potential opportunities to apply appropriate performance improvement tools.
This year's winners are:
Gold Award
USAG Hawaii
• Reduced regulated waste generation by partnering with tenants to replace traditional petroleum motor pool maintenance products with bio-based lubricants and spill absorbents;
• Institutionalized a cost culture resulting in initiatives that saved the garrison $700,000 in Fiscal Year 2013 and $61.7 million since FY 2010;
• Will receive a $100,000 monetary award.
Silver Award
USAG Fort A.P. Hill
• Improved from a Bronze finish last year to a "Silver" finish this year, shows continued improvement and raising the bar of excellence;
• Regional training center with high operation tempo, providing high quality service to rotational units;
• Aggressive reductions in green house gas emissions; energy and water usage;
• Will receive a $60,000 monetary award.
USAG Fort Wainwright
• Diverted almost 50,000 pounds of recyclable materials from the landfill and generated $700,000 in revenue for Morale, Welfare and Recreation programs;
• Achieved real property audit readiness certification in 2013 ahead of the 2017 target date;
• Evaluated key service contract and found efficiencies that saved the garrison $586,000 in 2013;
• Will receive a $60,000.00 monetary award.
Bronze Award
Joint Base Lewis-McChord
• Consecutive ACOE Awards (2013 Silver award winner);
• Net Zero designation in both waste and water, including diverting more than 72 percent of its solid waste stream from landfills;
• Comprehensive customer service program "SMILE" dramatically reducing customer complaints and improving employee morale;
• Will receive a $30,000 monetary award.
USAG Fort Hood
• Achieved 33 percent reduction in both energy and water consumption compared to 2003 and 2007 base years, respectively;
• Conversion to wireless ICE kiosks and digital signage that  reduced downtime, NEC support, and resulted in cost avoidance of $48,000;
• Strong partnerships with surrounding communities for education, recycling, water conservation and energy reduction;
• Will receive a $30,000 monetary award.
USAG Fort Knox
• Aggressive energy conservation program resulting in usage decreases of 30 percent in electricity and 67 percent in natural gas;
• Environment sustainment efforts result in the collection of 40,000 pounds of hazardous materials annually;
• Evaluated key service contracts and found efficiencies that reduced expenditures by 25 percent ($36.7 million);
• Will receive a $30,000 monetary award.
Most Improved
USAG Stuttgart
• Aggressive water and energy efficiency programs resulting in almost $1 million in cost savings;
• Initiatives to improve the quality of life for assigned personnel, including recapitalizing savings to add high demand community programs and services;
• Will receive a $10,000 monetary award.
USAG Fort McCoy
• Reduced energy consumption 24.5 percent below targets by July 2013;
• Successfully terminated mobilization/demobilization mission and transitioned to collective training and large exercise supporting thousands of reserve component participants;
• Will receive a $10,000. monetary award.