[slideshow_deploy id='24534′]
By Holly DeCarlo-White
USAG Stuttgart Public Affairs Office
U.S. Army Spc. Brenna A. Forsberg of the Stuttgart Health Clinic, Bavaria Health Command, competed at the 2016 Armed Forces Golf Championships bringing home a gold medal for the Army for the first time in almost 20 years.
An avid golfer at the Stuttgart Golf Course in Kornwestheim, this was the first time Forsberg tested her skills at the All-Army Sports level. Forsberg earned one of three spots on the women's All-Army Golf Team during the All-Army Golf Trials held Aug. 15-18 at the Fort Jackson Golf Club in South Carolina. Following the trials, the team continued on to play against Air Force, Navy, and Marines in the 2016 Armed Forces Golf Championships, Aug. 20-23.
During the championship tournament, Forsberg shot the lowest round 78 on the final day and birdied the last hole to force a sudden death playoff between the Army and Air Force.  The Army women beat the Air Force team in the first playoff hole after defeating all other military service branches in a historic win for the Army.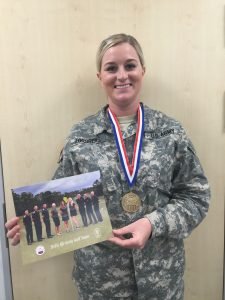 2016 Armed Forces Golf Championship Results:
Women's
Team – U.S. Army 640 – 640 tiebreaker win over U.S. Air Force
Individual:
1st Place: Maggy Ramirez (USN) – 314
2nd Place: Shauna Snyder (USA) – 320
3rd Place: Deborah King (USAF) – 324
Men's
Team: U.S. Air Force 1452 – 1456 win over U.S. Army
Individual:
1st Place: Kyle Westmoreland (USAF) – 280
2nd Place: Brian King (USA) – 283
3rd Place: (Tie) Ryan Allred (USA) – 288
Miguel Macias (USAF) – 288