By Holly DeCarlo-White
USAG Stuttgart Public Affairs
As of May 12, U.S. Army Garrison Stuttgart eliminated the use of paper Interactive Customer Evaluation (ICE) comment cards throughout the garrison.
The garrison annually receives more than 6,000 ICE comments. Despite the available online ICE system, in 2016, almost 68 percent of all ICE comments received came in via paper comment cards. By transitioning the community ICE comment program to an online system, the garrison will be able to provide more efficient customer services.
"Customers who submit electronic ICE cards will receive quicker response times. In the past, we picked up paper copies once a week, so if someone submitted a card on Thursday and we had picked up the cards on Wednesday, the paper card would be in the box for over a week before it was picked up and input into the system," said Cherie Westphal, chief, USAG Stuttgart Plans Analysis Information Office.
In addition to faster response times and saving paper, going paperless will also save the garrison staff an estimated 50 hours per month on paper cards between manual input and collection travel time. That equates to 600 hours per year or about $14,000.
To encourage electronic submissions and make it easier for customers to provide online feedback using mobile devices, customer service providers within the garrison will have signage with the Internet address and a QR code that directly accesses the ICE website. For example, offices such as Housing that serve the community will have a sign with easy directions for customers wishing to provide feedback.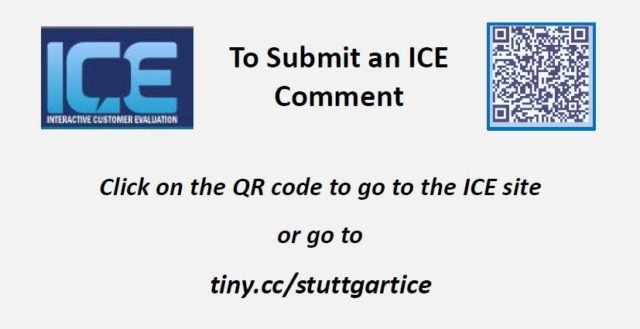 Submitting ICE comments
Community members are encouraged to provide suggestions on improvements to garrison services, feedback after receiving services that need correction, recommendations on how to better integrate services across the five garrison installations (Panzer Kaserne; Patch, Kelley and Robinson Barracks; and Stuttgart Army Air Field), and comments about the quality of service provided by teams or individuals. It is important for the garrison command team to be informed about positive experiences as well as negative ones, and to know which employees should be singled out for exceptional service or additional customer service training.
Along with Base Operations Support services, USAG Stuttgart also provides more than 240 services to community members on a daily basis ranging from family and youth programs, to fitness centers, to housing and vehicle services, to ensuring our community's well-being, safety and shelter.
Submitting ICE comments is an effective and efficient way for community members to provide feedback anonymously. Customers providing contact information will receive direct responses within three business days. Every comment and suggestion is read by the garrison command team.
The garrison commander uses ICE comments to continuously improve services to the Stuttgart military community.
To submit an ICE comment, visit www.stuttgart.army.mil and click on the "ICE" logo.
People in need of emergency response should contact the Military Police Help Desk at 0711-680-5262; for repair issues, contact the Housing Office emergency maintenance service line at 0711-7228-6200.