U.S. Special Operations Command Europe service members joined together with family and friends during an Establishment Day Ceremony honoring the 59th anniversary of SOCEUR, Jan. 22 at the Patch Barracks movie theater.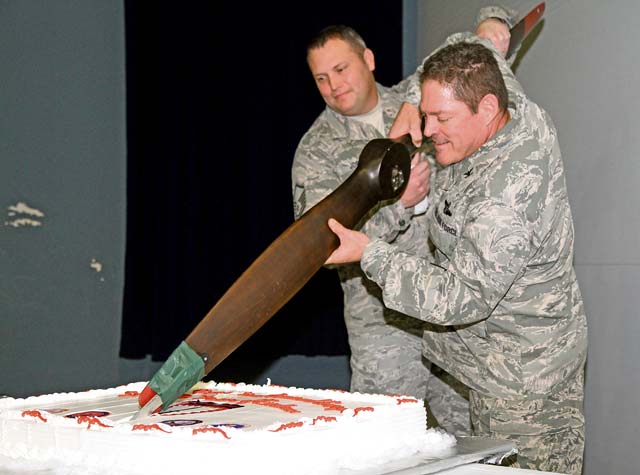 Hosted by SOCEUR Commander Maj. Gen. Brad Webb, more than 250 people attended the ceremony in celebration of SOCEUR's origins in 1955 to today and beyond in support of U.S. European Command and the North Atlantic Treaty Organization.
"There is a little bit of a theme about this thing this morning," said Webb. "It's about the past; it's about the present; and it's about the future."
Split into three parts, the ceremony began by recognizing the past through a presentation highlighting key events in SOCEUR's history and progressing to the unveiling of the dedication and renaming of the three main SOCEUR conference rooms.
"Something about SOF is we move at the speed of SOF, by and large, and very rarely do we take time to pause and reflect," Webb explained about the renaming. "Certainly we have lineage, but we also have heritage. With those two things in mind I wanted to contribute to the heritage."
The conference rooms previously referred to by generic acronyms were renamed the Jedburgh, Valentine and Carpetbagger rooms as chosen by the Army, Navy and Air Force components under SOCEUR.
The Jedburgh Room was named after the Jedburgh Operation,  a clandestine operation during World War II and a precursor to modern U.S. Army Special Operations Forces. The Valentine Room was named after Senior Chief Petty Officer Thomas E. Valentine, a highly decorated Navy SEAL who served multiple combat tours and received the Silver Star. The Carpetbagger Room was named after Operation Carpetbagger, a World War II operation to deliver supplies to resistance fighters in enemy-occupied European countries and the ancestor to today's U.S. Air Force Special Operations.
In honoring the present day, Webb was joined by SOCEUR Senior Enlisted Leader Command Chief Master Sgt. Gregory Smith, who presented awards and certificates to 12 service members and civilians to recognize them for their contributions to the current mission.
Webb spoke about the impact each individual brings in supporting the current mission, and how SOCEUR as a theater Special Operations command — because of its strong history and location — is making major contributions to mission accomplishment of both the EUCOM and U.S. Special Operations Command commander's priorities, making it a model for other TSOC's to emulate moving forward.
"Significant, significant contributions by SOCEUR," he said. "As the TSOCs go, this was kind of the model. This is by far the most mature. I think we are uniquely positioned as we move forward with Gen. (Phillip) Breedlove's priorities for EUCOM and Adm. (William) McRaven's vision of the global SOF network. SOCEUR, because of geography, because of the TSOC lineage and heritage, is absolutely rightly positioned to be really a swing component to enabling the fulfillment of our commanders' visions; so for that I think we are absolutely special."
"I think it's appropriate we pause and reflect on the 59th birthday of SOCEUR. It has a very, very storied past; it's got a robust present; and it's got a bright future in front of us," he concluded.
At the conclusion of the ceremony, Webb and Smith took part in a cake-cutting along with the senior officer and noncommissioned officer from each of the four services that comprise the headquarters' staff. Each used cutting implements that best commemorated the spirit of the service they represent and wished SOCEUR a happy birthday.