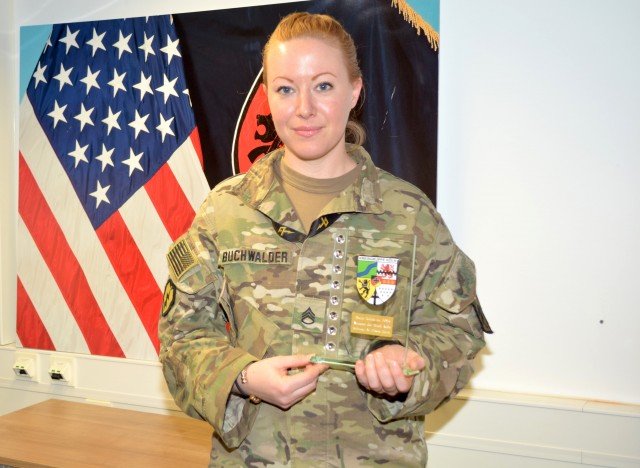 By Special Operations Command Africa Public Affairs
On Nov. 28, more than 400 military and civilian men and women from 50 nations competed in the 32nd International Shooting Competition in Cologne, Germany.
Among these participants was U.S. Army Staff Sgt. Heather Buchwalder, a special duty Non-Commissioned Officer with Special Operations Command Africa. She took home the award for Best Female Shooter. She beat out 50 other women.
Buchwalder was part of a four-person team made up of a German Reservist and two civilian females. The weapons used in competition comprised of a G36, the German standard issue weapon, a P8 Pistol, similar to the U.S. military M9 issue, and an AGSHP (G36) Simulator.
Each competitor was required to shoot 10 rounds of the G36 in three minutes lying in the prone position. For the P8 Pistol they had to shoot six shots standing and six rounds kneeling from 20 meters. The score was the best of 10 shots. For the AGSHP simulator participants were required to fire 10 rounds in 30 seconds from 100 meters.
"This was a great experience" said Buchwalder. "The German's were really nice and made everyone feel at home. They took a lot of time and care to make sure people knew how to operate their weapons."
Buchwalder was first introduced to the German weapons two years ago when she participated in the German Schützen Schurr where she earned a Gold German shooting badge. Even though Buchwalder had experience with German weapons, this was her first shooting completion. In fact, she hadn't fired a weapon until she joined the military more than eight years ago. Where, by the way, she routinely qualifies expert.
This may have been Buchwalder's first shooting competition, but coming from a large family with older brothers she is used to having to compete. Routine play around the house would generally result in a competition and even an occasional broken bone or two-usually her brothers. Needless to say she doesn't shy away from any type of competition, especially physical competition. Some of her hobbies include dirt bike riding, cross-country horse jumping and Alpine skiing.
The family environment of this event is one of the reasons many of the same teams return year after year.
The best part of the competition was the camaraderie, said Buchwalder. Even though people came from different nations to compete, everyone shared in the fun and could appreciate the challenge of this special event. This was definitely a friendly competition, she said.
They were a couple of other U.S. civilian and military members who participated, but she hopes to build a SOCAFRICA team for next year.
"I'm absolutely hoping to build a team for next year, anyone who wants to take part please let me know. I'd really like to beat the Swiss since they usually take home all the awards."
Well, because of her not this year.