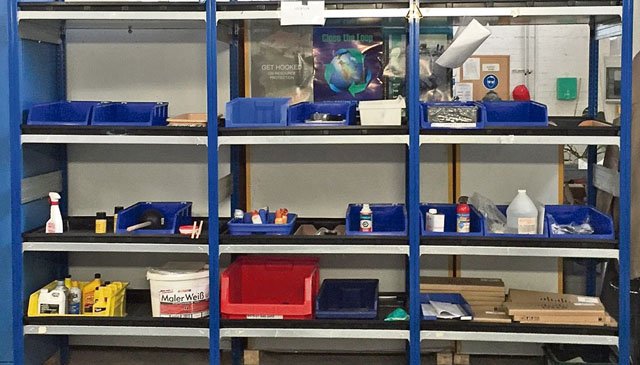 USAG Stuttgart Public Affairs Office
U.S. Army Garrison Stuttgart community members can help each other by recycling and reusing cleaning supplies and other materials found at the Hazardous Material Reuse Center on Panzer Kaserne.
The reuse center is part of USAG Stuttgart Logistics Readiness Center, under the 405th Army Field Support Brigade, which provides installation logistics services to sustain unit readiness, and improve quality of life in our communities.
The center is a warehouse full of cleaning supplies, paint, and toner for printers, oil and other similar products — all free of charge to all ID cardholders.
"People about to go back to the States have extra cleaning products — [they] could be used by other people," said Mike Lansdale, Reuse Center manager.
Materials include cleaning spray, ink cartridges, oil and even plant food. The center prevents environmental hazards; it has a sealed floor, absorbent material for spills, an eyewash station, safety equipment and fire extinguishers. It also provides a place where units and community members can drop off or pick up excess toner, lubricants, batteries, adhesives, fuel, paint or acid.
"This is an ideal place for this sort of stuff to be utilized by everyone…it's safe here…it saves money [and] reduces waste," Lansdale said.
Single items dropped off — such as a bottle of glass cleaner, wood spray, paint products — are easy accessible on a daily basis, and can be picked up by individuals. However, excess supplies ordered by tenant units, can only be reused by other units. Those items are being place in a web base-tracking format tracked in the worldwide Hazardous Material Management System.
Based on their prices when they were first issued, items given to other units are re-used and (free of charge) saved the garrison about $5,000 per month, according to Lansdale.
Lansdale encourages units that have not already done so to check out the reuse center and add to the savings.
"Before [units] start to order things, they should really come here … and save the government a lot of money," Lansdale said. The reuse center is not only friendly to the economy; it is good for the environment, as well.
When community members leave their supplies at the reuse center, those that are expired or contaminated will be disposed of properly, Lansdale said. He personally takes unusable materials to the Hazardous Waste Collection Point, across the street. Normally, individuals would need to make an appointment with the installation coordinator to dispose of hazardous waste. With the Re-Use center, appointments are not necessary. We encourage families who PCS (outgoing) to turn-in their used cleaning supplies or anything that is consider hazardous to the Re-Use Center for proper disposal. If during that time after carefully reviewing the expiration can be utilize again, we place the items on the shelf for re-issue.
The Reuse Center is located in Building 2958 on Panzer Kaserne, opposite the Panzer Commissary. Hours of operation are Monday through Friday from 7:30 a.m. to 4 p.m. For more information, contact DSN: 431-2071/civ. 07031-15-2071 and or the Chief of Supply and Services (Installation Supply Officer) at DSN: 431-3413/civ. 07031-15-3413
---
Helpful Reminders
German Contract Assistance
Use the German translation service, free for all I.D. cardholders available at Army Community Service, Building 2915, Panzer Kaserne. The ACS translator can help with things like cell phone contract cancellations and common issues not related to legal, medical or taxes. Contact for more information, DSN: 431-3362/civ. 07031-15-3362
Patch Thrift Shop Donations
Donations to the thrift shop must be dropped off during operation hours; for all after hours donations, there is a donation shed where any donations must be placed. All donations must be inside the shed, items may not be left outside as they could be damaged due to inclement weather and other resource factors. Thrift Shop hours of operation are Monday, Wednesday, Friday 10 a.m. to 4 p.m. and Thursday 3-7 p.m. First and third Saturdays of the month 10 a.m. to 2 p.m. For more information or to contact the SCSC Patch Thrift Shop, call 0711-680-5510.
Stuttgart Community Flea Markets
All Community Flea Markets are held on Saturdays and open to I.D. card holders. Market times are 10 a.m. – 2 p.m. although set-up for sellers is always an hour or two earlier. If you would like to reserve a table, please click on the e-mail link just below. Service fees for table/spaces is $10 and due in advance at any of our four Fitness Center locations on Patch, Panzer, Kelley and Robinson Barracks. If after signing up payment is not made within five working days before the flea market, names can be dropped to allow access for community members on a waiting list. There is a limit of one table per person for indoor events since space is limited. If Flea Marketers do not show up fifteen minutes before the start of the event their tables and space may become forfeit. Click here for upcoming flea market events.