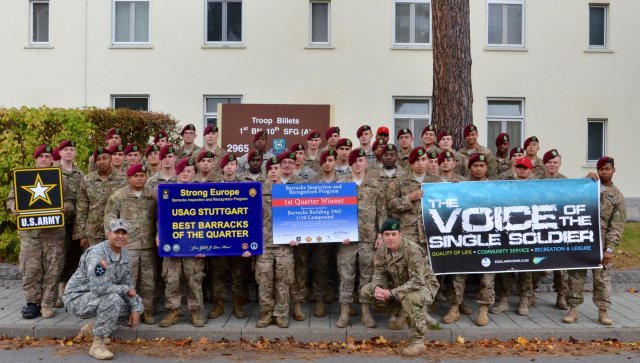 By USAG Stuttgart Public Affairs Office
Congratulations are in order to members of Headquarters and Headquarters Company 1/10 Special Forces Group for setting the standard, receiving the U.S. Army Garrison Stuttgart's Best Barracks of the first quarter award, Oct. 8 on Panzer Kaserne.
In addition to award recognition, Family and Morale, Welfare, and Recreation provided the group with complimentary passes to the Galaxy Bowling Center to enjoy continued camaraderie among the compound in off-duty hours.
The unit will compete again in the third quarter.
The purpose of the Strong Europe, Barracks Inspection and Recognition program (BIRP) is to create a fun and innovative way to improve the quality of life for Soldiers who live in barracks, and stimulate involvement of individual tenants, as well unit leadership.
The program rewards those who achieve the highest overall score through the inspection process. This requires the involvement of individual tenants as well as unit leaders to which the tenants are assigned.
The goal is to develop, instill, and promote all of the following within the barracks communities.
A high degree of individual and leader responsibility.
Self-discipline and a sense of home ownership.
A spirit of camaraderie and esprit-de-corps.
The desire to exceed established care and maintenance standards.
The program is applicable to all service members assigned to units within United States Army, Europe and Installation Management Command Europe areas of responsibility living in barracks within the joint community.