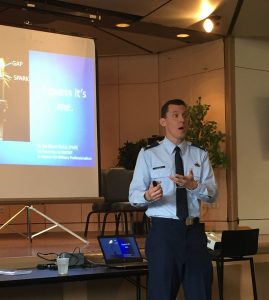 Story and photo by Robyn Mack
USAG Stuttgart Public Affairs Office
U.S. Army Garrison Stuttgart hosted a Sexual Harassment/Assault Response and Prevention Summit April 13 and 14 as part of the community's Sexual Assault Awareness Month events.
The day-long sessions were hosted at Kelley and Patch Barracks to give leaders, service members, Department of Defense civilians, first responders, and interested community members information and tools for victim support services.
USAG Stuttgart Sexual Assault Response Coordinator, Luis Bispo, said "Through this training we help provide awareness to support, resources, facilities, and expertise to help our Stuttgart units and installation partners."
During the summit, attendees heard from guest speaker, U.S. Air Force Lt. Col. Kevin J. Basik, Secretary of Defense Ash Carter's senior advisor for military professionalism.
By being stewards to the characteristics that make a profession unique and working to uphold those standards, instances of sexual assault, bullying and retaliation can be weeded out, Basik noted.
"When we are so focused on the mission, it is easy to say, 'Since I haven't heard of a problem, everything must be okay.' Then crisis strikes," he said. "As leaders we need to stay vigilant."
Basik explained it is necessary to set a tone where the things not being said in a staff meeting, or issues not being raised in the work environment – are – and that trust is developed through people doing what they say they would.
"We need to engineer the path for people that helps them develop an understanding that it's okay to reach out and ask for assistance," said Basik, who holds a doctorate in organizational behavior and has published research in areas of trust, accountability, and values-based leadership.
The path, described by Basik, moves from awareness to reasoning to decision to action. Where a sticking point at the decision-action gap calls on people to rely on their developed competence, confidence and commitment to address the issue at hand.
SHARP advocacy services are available to service members and Department of Defense civilians, as well as their dependents 18 years of age who were victims of sexual assault perpetrated by someone other than a spouse or intimate partner.
People can access victim advocates by calling the Stuttgart Sexual Assault Response Coordinator main office at DSN: 431-3656/3327 or civ. 0703115-3656/3327, by calling the Stuttgart sexual assault hotline at DSN: 484-7280/ civ. 0631-413-7280, or via the DoD Safe Helpline at 1-877-995-5247/direct dial: 0611-143-537-7233, or via the web at: https://www.safehelpline.org.
For victims of sexual assault perpetrated by a spouse or intimate partner, contact the Stuttgart Health Clinic/Family Advocacy Program Social Work Services at DSN: 590-1615/1616 or civ. 06371-9464-1615/1616 during duty hours; the Military Police, after duty hours, at DSN: 430-5262/civ. 0711-680-5262; or 24/7 through the Report Domestic Violence at civ. 0176-262-48894.
Watch a clip from the summit: