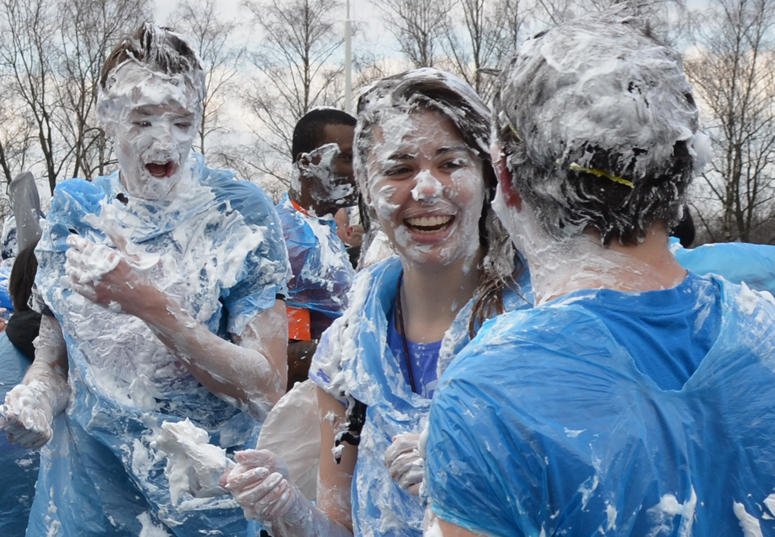 By Megan Brown
USAG Stuttgart Public Affairs Office
Members of the Stuttgart military community gathered at Washington Square on Patch Barracks March 12 in an attempt to break two world records during a massive event sponsored by Mu Alpha Theta, Patch High School's math honor society.
The event aimed to celebrate Pi Day in an enormous way.
Pi is used in mathematics to represent a constant — the ratio of the circumference of a circle to its diameter — which is approximately 3.14159, according to www.piday.org.
This year, Pi Day fell on March 14; or in other words, the first five digits of pi: 3.1415 (03-14-15). Since this date only occurs once every century, Mu Alpha Theta wanted to do something that would be talked about for years to come, according to PHS teacher Daniel Coapstick, the club's sponsor.
This is the club's third celebration of the nationally recognized holiday. In the past, students have held pi reciting contests, sold pizza and pie, had hula-hoop contests and the favorite, a pie-in-the-face fund raiser.
However, this year's event was designed to surpass the previous years' events and put PHS in the Guinness Book of World Records, twice.
Mu Alpha Theta decided to bring hundreds of people together for an enormous shaving cream pie fight and set a new record for the recitation of the first 20 digits of pi in unison.
The previous record for the pie fight was broken by the Christian Cornerstone church in Arizona in 2013, with 815 people taking part.
While numerous individuals have attempted to set records for reciting pi, there has never been a group effort.
Mu Alpha Theta wanted to shatter the pie fight record and establish a pi reciting record with 1,000 or more participants.
Before the pie fight, PHS assistant principal Dr. Trent Blankenship stood in the rescue bucket of the U.S. Army Garrison Stuttgart aerial ladder truck and held up the first 20 digits of pi, one by one, for a crowd of 1,002 to repeat in unison.
Then, armed with video cameras, selfie sticks and even cans of shaving cream, the students, parents, faculty, visiting German students and various community members prepared for what would be the largest shaving cream pie fight in history.
The intense fight, carefully planned since the summer of 2014, took a little more than a minute. "It was awesome. I would do it again and again," said PHS freshmen Mason Bonton.
Currently Patch High School unofficially holds both world records. "The footage needs to be reviewed, which can take up to six weeks," Coapstick said, adding that the community will be informed as soon as he knows. The results most likely will come in May.
To pull off an event like this took 650 cans of shaving cream to make 2,118 pies. The commissary had a limited number of shaving cream cans in stock and had to express ship about 300 cans.
When the pie fight ended, Mu Alpha Theta continued old traditions by selling homemade pies, among other snacks.
"[My] favorite part was watching a goal be realized. I was confident we could beat the record … you just never know until it actually happens. Everyone had a great time; it was great," Coapstick said.