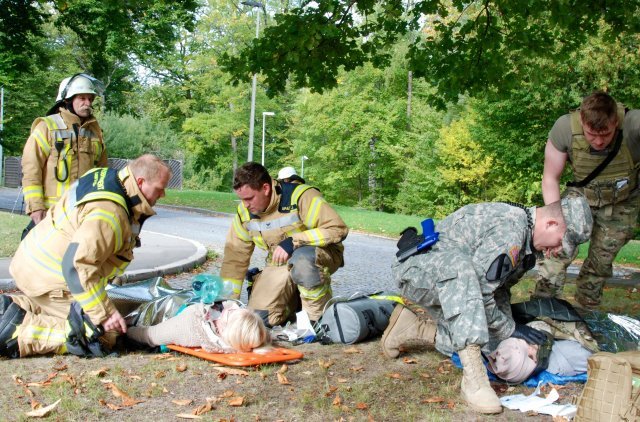 By John Reese
USAG Stuttgart Public Affairs
The U.S. Army Garrison-Stuttgart is set to conduct its annual force protection exercise, Stallion Shake 2017, at Patch Barracks, Sept. 16.
The exercise is intended to evaluate the garrison's service support emergency response of German and American first responders includes law enforcement, fire and medical support in the event of an actual emergency.
The specifics about the upcoming exercise must remain vague until after it happens so as not to influence the participants' possible responses. However, the Stuttgart military community can expect to see increased activity at Patch throughout the Saturday event. This may include increased wait times at the gate or elsewhere on post, depending on the scenario. In addition to testing the boots-on-the-ground responders, Stallion Shake 2017 is designed to assess various aspects of the garrison's emergency management plan, to include communications, random antiterrorism measures, intelligence information sharing, analysis and the AtHoc emergency mass notification system.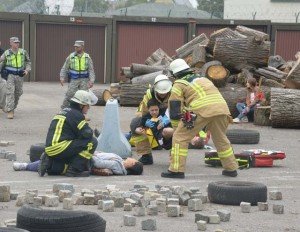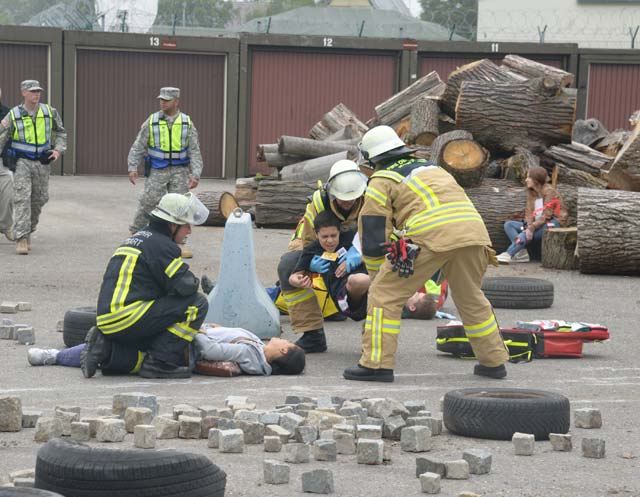 "AtHoc is a notification system that enables USAG Stuttgart to notify our five communities of an emergency incident within the required notification window set forth by the Department of Defense," said Robert Daul, antiterrorism officer, USAG Stuttgart Protection Branch. "It is highly recommended that all community members enroll into the AtHoc system."
Most of the past exercises revolved around responding to acts of terrorism. For example, Stallion Shake 2016 took place at Stuttgart Army Airfield Airport in conjunction with Stuttgart International Airport's biannual training. Other examples of the garrison's full-scale exercise training incidents have included explosive devices, active shooters, even hazardous mail. It is intended to be as realistic as possible. A force protection exercise can also be in response to a simulated catastrophic accident or natural disaster.
Military and civilian personnel (Department of Defense civilians and DoD contractors) from the Directorate of Emergency Services are expected to participate. Depending on the scenario, the garrison first responders will be supported by the other directorates such as Public Works, Family & Morale, Welfare and Recreation, Army Community Service, Public Affairs and more.
"We will focus on how multiple organizations respond and work in a unified command system headed by the DES," said Shane Crutcher, director, DES. "We'll strive for collaborative interaction with local emergency services, the Polizei and any first aid response.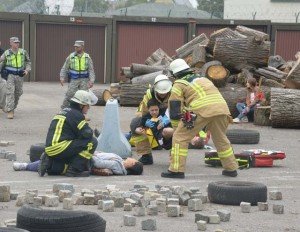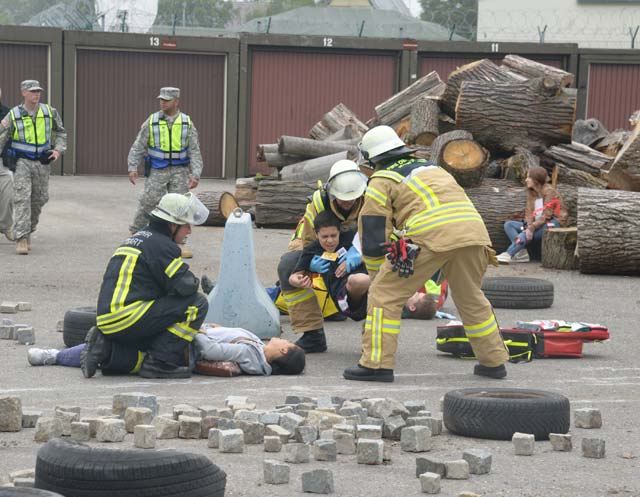 "We prepare year round in smaller exercises and face to face training with our host nation responders. New technology and emerging threats always keep us working to do more," Crutcher said. "Emergency response is something we do every day and this is just another opportunity to test agreements and skills."
Crutcher said that with any exercise, folks tend to get focused on fire trucks, police cars and ambulances. However, in a real event, people need to understand the commitment to support and sustain the responders during the incident and the community afterwards as the focus.
"Those tasks do not happen every day," Crutcher said. "Folks from all over the garrison, as well as mission partners and tenant units, support in one way or another during a crisis, all while trying to support normal operations as much as possible. Being a gated community, we have a responsibility to sustain operations for a period of time before we can realistically receive additional help. This is what were are looking for these types of events."
Outside agencies such as Deutsches Rotes Kreuz (German Red Cross or DRK), Stuttgart International Airport and Esslingen County Fire Departments and German law enforcement personnel participated in Stallion Shake 2016. Other medical services will be supporting Stallion Shake 2017 in addition to the DRK, Crutcher said, adding "Support for this year's Stallion Shake will be from the Stuttgart City Fire Department."
Last year's exercise also involved a variety of additional German and American participants, including the 66th Military Intelligence Criminal Investigation Detachment, the District Government Stuttgart, the Stuttgart Airport Fire Department, Esslingen County and City of Stuttgart fire departments and the Reutlingen Polizei.
"The intent will be to exercise our emergency plans, identify deficiencies and adjust operational procedures accordingly'" said Chief Karl Dörsam, USAG Stuttgart Fire Department. "Another focus is on joint incident command and communication."
Along with the hundreds of U.S. and German professionals participating will be an unknown number of role players, some acting as casualties in response to whatever the scenario calls for.
"A benefit of this exercise is to keep strong relations with the civilian fire departments and other emergency responders; that also helps us to understand the capabilities of local emergency responders," Dörsam said.
The exercise takes place during September's National Preparedness Month (NPM). For 2017, the NPM theme is "Disasters Don't Plan Ahead. You Can," with each week featuring a different aspect of preparedness. The idea of preparedness works well with the garrison's force protection exercise, helping community members of all backgrounds and ages plan for whatever may come. The website Ready.gov features 28 different situations to prepare for, from biohazards to volcanoes.
"When disaster strikes, emergency responders address the most critical needs and may not be able to get to an area until it is deemed safe," Daul said. "While they work on behalf of the entire community, it is your responsibility to ensure your family's well-being during times of crisis."
Daul said that emergency kits are essential tools for meeting that challenge. Community members can learn more about the "Army Ready" program by visiting the Army's preparedness website at www.ready.army.mil.
"To prepare your family for an emergency, get one or more emergency kits that include enough supplies to meet your essential needs for at least three days. Suggested basic items to consider for a home emergency kit can be found at the Ready Army website," Daul said.
In 2011, the Centers for Disease Control put out guidance on how to deal with a zombie apocalypse. The response was so great that the CDC's website crashed.
However, the point wasn't that there could actually be walkers among us, but to call attention to being prepared for almost any contingency. The information it provided, tongue in cheek, could be used with any of the scenarios listed on Ready.gov. The examples of hurricanes Harvey and Irma leaving millions without power and displacing tens of thousands of people due to flooding are stark reminders to be prepared. September is a good time to work on family assembly points during an emergency, food, medicine and other necessary supplies, and other possible issues in Stuttgart, like language differences. The site offers a considerable amount of resources and handy printouts, such as a wallet-size emergency communications card.
[Note: See the November issue of The Stuttgart Citizen to find out what happens, or visit www.stuttgartcitizen.com after the exercise.]