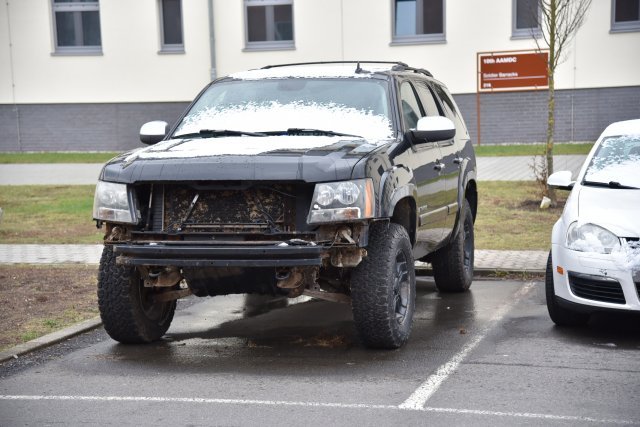 Story and photo by Mary Ann Davis
Installation Management Command
KAISERSLAUTERN, Germany — When you're relocating back to the States or to another overseas assignment, you'll leave friends, coworkers and your community behind — but one thing you shouldn't leave behind is an inoperable vehicle.
That's right. You'll have to find a home for your broken down car, because it's your responsibility to take care of your U.S. Army Europe-registered vehicle before you depart your duty station, said Staff Sgt. Robert Brech, a Traffic Management and Collision Investigations supervisor with the U.S. Army Garrison Rheinland-Pfalz Directorate of Emergency Services.
"Soldiers, civilian employees and contractors with Individual Logistical Support are required to out-process vehicle registration prior to departing the garrison," Brech said. "The main purpose is to provide proof they disposed of their vehicle in an authorized manner."
Last quarter, DES disposed of 72 inoperable vehicles from garrison installations — which is not free. Within the Baumholder area, towing fees are $100, $125 within the Kaiserslautern Military Community and $275 outside of the KMC (Germersheim Army Depot and Coleman Work Site).
"If a vehicle in the USAG RP footprint is not claimed by its owner, the vehicle is released to Family and Morale, Welfare and Recreation Baumholder Auto Skills Parts Yard to be sold for parts or scrap," Brech explained. "If a vehicle is claimed by the owner, the individual must show proof of payment for towing to FMWR before it can be released. They also have to provide proof of a current USAREUR vehicle registration."
Drivers with inoperable vehicles have three options:
1. Repair. Inoperable vehicles should be repaired in a timely manner, have a non-operational registration and not present an abandoned appearance. It is strongly recommended to leave the non-operational registration document visible in the windshield. Non-operational registrations are only valid for 90 calendar days, and vehicle owners are authorized two, back-to-back non-operational registrations. A third non-operational registration is authorized with approval by the garrison provost marshal.
2. Sell. If an owner sells a vehicle to another person with ILS, the vehicle must have a valid one- or two-year registration. The garrison provost marshal may authorize the transfer of vehicles having a temporary or non-operational registration with approval by both the seller's and buyer's commanders. Vehicles may be sold to another person without ILS or agency as well. This includes local-national civilians, vehicle dealerships or junk yards. However, the sale must receive clearance through the U.S. Forces Customs Office before it can be finalized.
3. Donate. Owners can donate their vehicles to the FMWR Auto Skills Parts Yard in Baumholder or the Ramstein Auto Recycling Center. The donated vehicle will be sold as parts or, if they only require minor repairs, will be resold to another person.
Although there is no "Leave it" option, unfortunately, that is what some Soldiers have done in the past — but it comes at a price, Brech said.
"Soldiers can face punishment under Article 92 (Failure to Obey a General Order) of the Uniform Code of Military Justice for improperly disposing of a vehicle and owning an unregistered vehicle," he said. "Civilian employees and contractors with ILS under the Status of Forces Agreement can face administrative actions under Army in Europe Regulation 27-9, 'Misconduct by Civilians,' for the same offenses."
Both Soldiers and civilians can have their USAREUR driver's licenses suspended for 90 calendar days for having three or more offenses of owning an unregistered vehicle within a five year period.
Improperly disposing of a vehicle is the primary offense used in law enforcement reports for abandoned vehicles. Owning an unregistered vehicle is a secondary offense people receive when they have a suspected abandoned vehicle that is impounded without a valid registration. This is also the offense individuals are cited for if their registration expires and a military police patrol confiscates their license plates, he said.
Although sometimes Soldiers and civilian employees are required to leave Germany with short notice, they still must take care of their responsibilities prior to departing.
"If an owner is unable to ship his or her vehicle or dispose of it in an authorized manner before departing, the individual can appoint an agent to do so for them. This is done at any of the vehicle registration offices with the owner and agent present. This does not, however, relieve the owner of any legal responsibilities for the vehicle. Owners who appoint agents need to ensure they are people they can trust to carry out their plan for the vehicle in a timely manner," Brech advised.
Vehicles suspected of being abandoned can be reported to the MPs.
Taking the time to dispose of your inoperable vehicle will free up valuable parking spaces on our installations, while avoiding administrative actions for owners in the future, said Darryel Johnson, USAG RP DES deputy director.
"Properly disposing of your privately-owned vehicle before you move keeps you from being subject to UCMJ or Civilian Misconduct action at your new duty station," Johnson said.