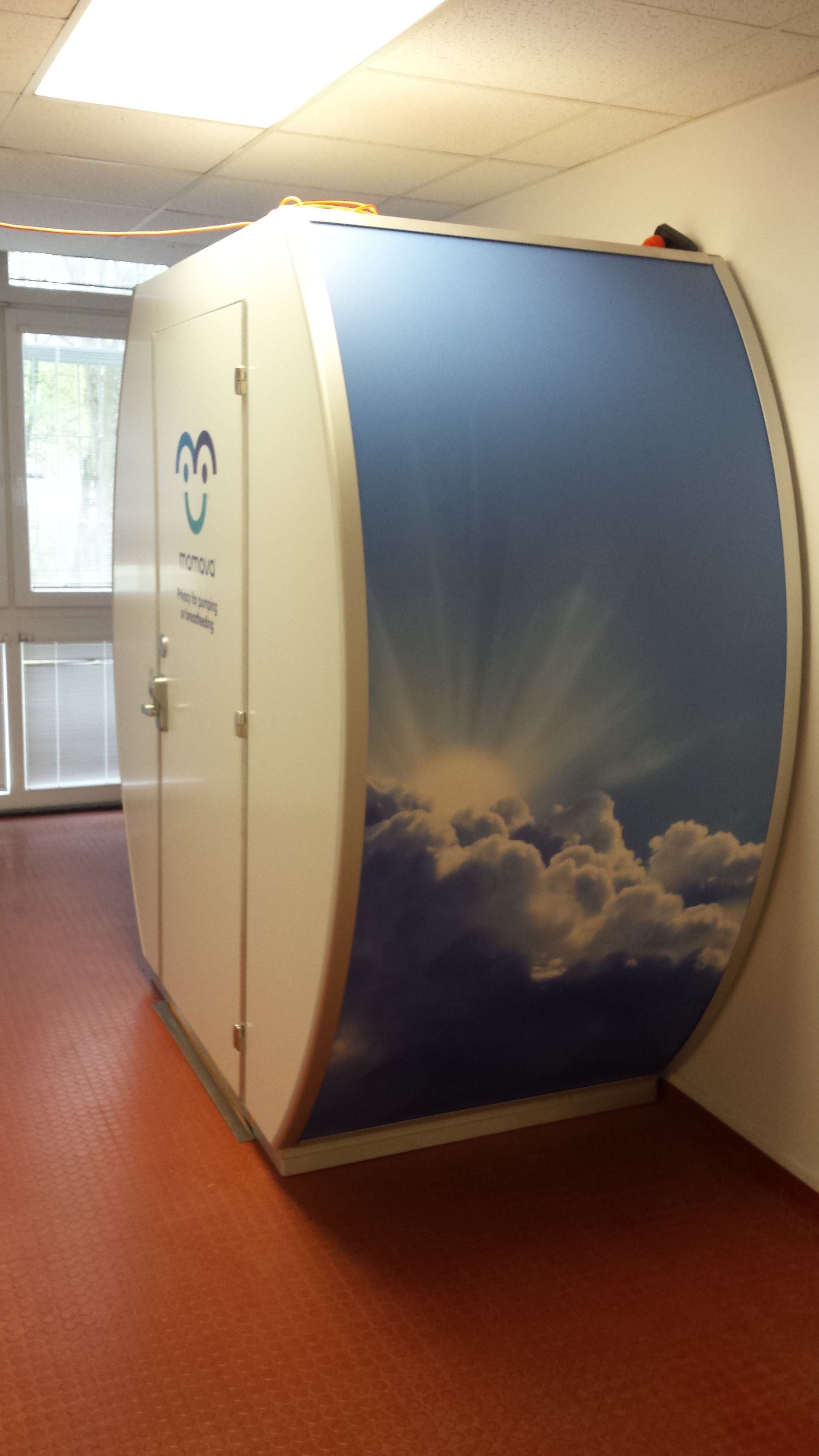 USAG Stuttgart Public Affairs
For new mothers, breastfeeding a baby in public can be a daunting task. Federal law permits the ability to breastfeed in public, including anywhere on-post. However, some mothers and infants prefer a private setting to feel more at ease.
Working hand-in-hand with USAG Stuttgart and U.S. European Command, the Defense Intelligence Agency on Patch Barracks recently established a lactation suite to support nursing, working mothers.
The suite, is a self-contained, mobile pod with comfortable benches, a fold-down table, an electrical outlet for plugging in a breast pump (a hospital grade Medela Symphony pump is provided), and a door that can be locked for guaranteed privacy. DIA employees serve as suite ambassadors to ensure the room is cleaned and that any issues are addressed in a timely manner. A badge is required to enter the located in Bldg. 2304, building, and a code is required to access the suite.
"We did it with the awesome power of breastfeeding mothers," said Lisa Phelps, RN, one of the garrison's three New Parent Support Program (NSPS) home visitors. "The first pod in Stuttgart!"
The garrison's NSPS, in conjunction with the Community Health Promotion Council, opened several lactation rooms nursing facilities designed specifically for mothers needing a private space to feed their babies. The lactation rooms are available for use at any time during the facilities' regular hours of operations.
Panzer Kaserne – Army Community Service, Bldg. 2915, 2nd floor, Rm. 214,
Patch Barracks – fitness center and commissary
Kelley Barracks – Jamii Community Room, Bldg. 3312 (closed until further notice due to ongoing construction), the Kelley Club and the fitness center.
Robinson Barracks – fitness center
"NPSP can assist commands with creating appropriate spaces for their lactating moms in their office areas," said Rita Goldstein, Licensed Master Social Worker and garrison ACS Family Advocacy Program Manager. "We use the federal laws and military branch-specific guidance to walk them through the process so that they are following the laws around breastfeeding and lactating mothers in the military.
Community members can visit the reception areas to request access to the lactation rooms. Each room is outfitted with a seating area and toys for accompanying siblings, electrical outlets for pumps, reading materials and other resources for parents.
All garrison Child Development Centers accommodate breastfeeding mothers of currently enrolled participants of CYS on Panzer Kaserne, Patch Barracks and Kelley Barracks. Note: The areas within the CDC are not privately designated lactation rooms. For more information, 431-3362 or 07031-15-3362, or visit the New Parent Support Program offices at Bldg. 2915, 2nd Fl., Panzer Kaserne.
(Editor's note: Jennifer Smartt, U.S. European Command, provided information about the lactation pod for this article. For more information regarding this specific suite, call 430-5590/8252 or 0711-680-5590/8252. Other information was compiled by Holly DeCarlo-White and John Reese, USAG Stuttgart Public Affairs.)