The Stuttgart military community now has an open line to the Military Police.
An overview of the first-ever USAG Stuttgart Neighborhood Watch program will take place at 6 p.m., June 28, in the Robinson Barracks Community Center (Bldg. 168).
Neighborhood watches are designed to empower community members and engage with law enforcement in a proactive way.  The  Directorate of Emergency Services' goal is to bring education and awareness to each neighborhood and receive information to help keep the communities safer.
This will be the first meeting and there will be meetings at each of the four garrison housing areas every other month. DES will discuss issues that are considered seasonal concerns such as summer crime trends, travel safety tips and precautions to take before you go on vacation.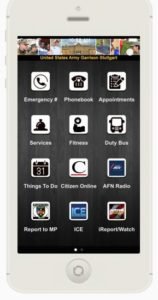 Additionally, there is a new button on the USAG Stuttgart mobile app that allows users to report non-emergency incidents to the MP Desk, with the option of reporting with contact information or anonymously.
DES has created a new Stuttgart Neighborhood Watch Manual for community residents to learn more about the program.