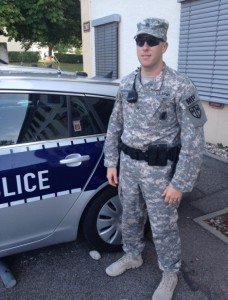 By 1LT Ken Witzman
554th Military Police Company
Military Police Soldiers of the 554th Military Police Company are seen every day patrolling and assisting the community across all U.S. Army Garrison Stuttgart installations. Their duties and vigilance as First Responders can often be the difference between life and death. It was with this awareness, and sense of duty, that lead Day Shift Patrol Supervisor, SGT Samuel Scarborough, to recognize a medical emergency outside the Patch Barracks Main Gate, Sept. 30.
At approximately noon, SGT Scarborough was exiting the main gate when he observed an elderly man lying on the ground by the sidewalk. Upon arrival to the scene, SGT Scarborough noticed that the man had a significant head wound as a result of a fall, and required immediate medical attention.
SGT Scarborough coordinated with the Military Police Department of Emergency Services for German EMS support and air medical evacuation, and then, alongside two civilians, he provided assistance to stabilize the man and treat him for shock. SGT Scarborough's actions resulted in his nomination for U.S. Army Europe's Soldier of the week.
Military Police Soldiers often never know when their assistance might be required, but through vigilance and professionalism, soldiers of the 554th Military Police Company are always ready to Assist, Protect, and Defend all those in and around the community.