Story by Paul Hughes
USAG Stuttgart Public Affairs
DoDEA School's COVID mitigation planning for a safe return to classroom learning, underway for months, is now transitioning into the execution stage at USAG Stuttgart schools.
The countdown has begun as eager students (and parents) prepare to return to a physical learning environment for the first time since March.
"Classrooms will look a lot different compared to previous years, as furniture is removed and desks are spread out to enable social distancing," Stuttgart Elementary Principle, Tessa Moss-Beaman said, during a tour of mitigation efforts at the Stuttgart Elementary School. "Hand disinfecting stations will be located at the entrances to all common areas, in addition to hand washing stations in every classroom."
Changes
Signage on the walls and floors will remind pupils of their need to wash their hands and to stay distanced; they are also required to wear their masks. For those occasions where a child has the urge to remove it, each classroom will have a designated mask break zone.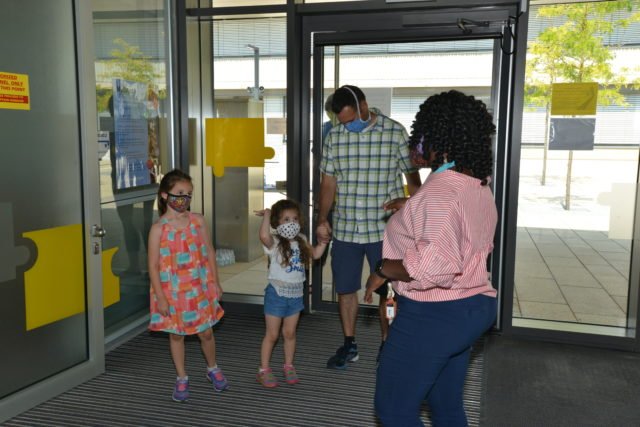 "If a student wants to take a mask break, outside of the scheduled mask breaks, they can go over to that area of the classroom and remove their mask," Moss-Beaman said, after which they will sanitize the area.
When students break for lunch, they will be socially distanced and there will be a limited number of students in the cafeteria at all times. As a result, they can enjoy their lunch without a mask.
It is not just the pupils and teachers who are responsible for COVID mitigation; parents can help by completing the pre-screening checks every morning before their child goes to school.
"Rest assured we are working really hard to prevent the spread of COVID here at our school," Moss-Beaman said. "But we are equally excited to have your students return to school in a learning environment where they can thrive."
For more information about going back to school, check the DoDEA return to school website.