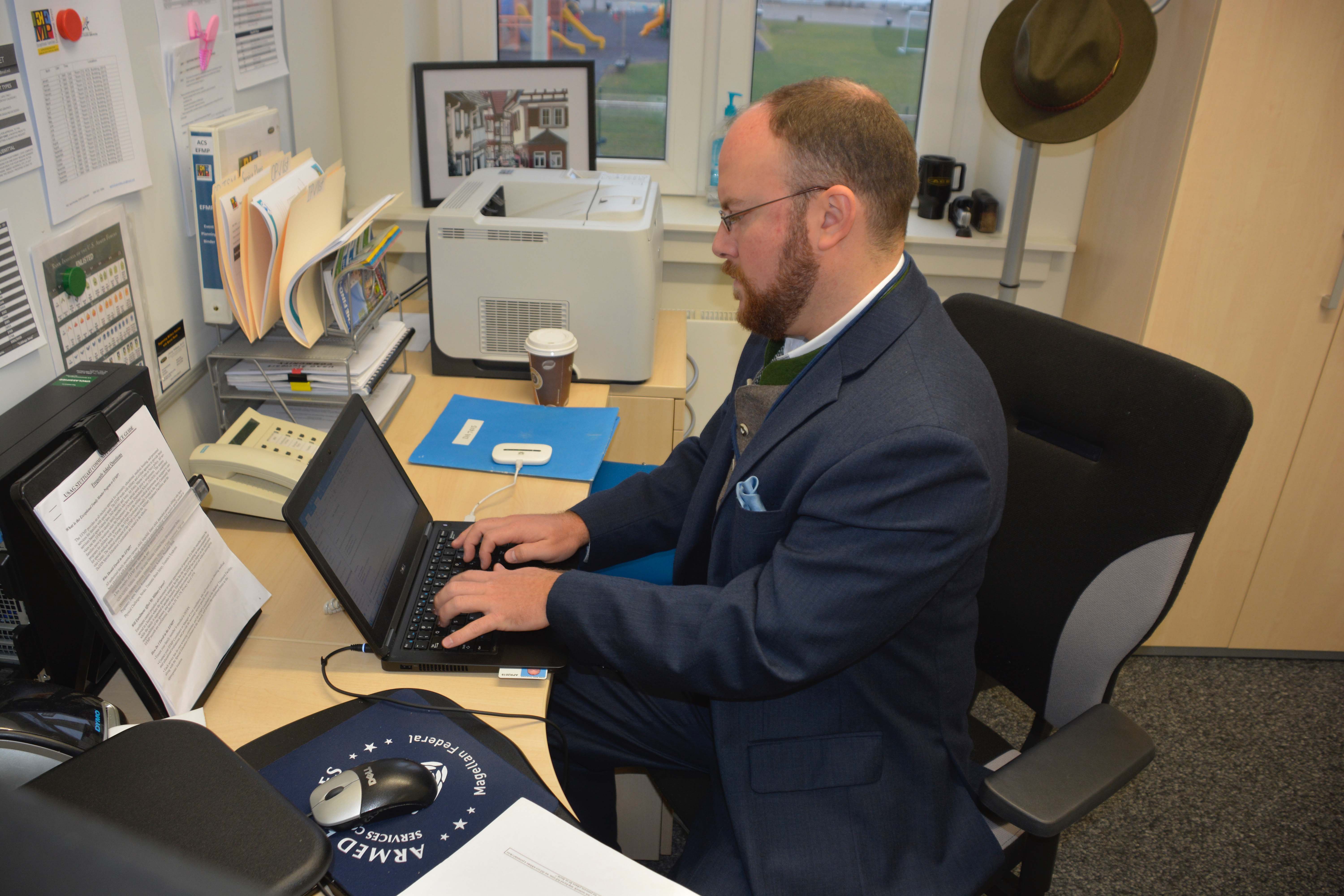 Story and photo by John Reese
USAG Stuttgart Public Affairs
Navigating the claim process with the Department of Veterans Affairs can be a daunting task, but it gets a lot easier when you have a knowledgeable Overseas Military Services Coordinator like Joshua Gregory in your corner.
"Basically, [OMSC is] an outreach position to try to help service members, veterans and sometimes their dependents as a point of contact [with the VA], mainly with disability compensation, but also as a point of contact for other VA service that they may have questions about.
"A separated service member will come in, head swimming with all of the information, overwhelmed, 'I don't know what to do,' and I'll just sit down with them and explain my background with the VA, what I do stateside, and how that plays into what I do here, and take the time to go head-to-toe and discuss everything they want to claim," Gregory explained. "I'll help them word it, type an email listing everything they need to do to claim so they can cut and paste it to their application. And if they have trouble with that, I'll walk them through the e-benefits portion."
Gregory noted some examples of the kinds of issues veterans and those retiring have concerns about, such as the medical program, healthcare overseas and burial benefits. He visits USAG Stuttgart one week per month or as much as there's demand, as well as attending a few Retiree Appreciation Days and other events to let people know he's here in Germany to help.
The first step is to make an appointment through the garrison's Army Community Service office.  ACS knows when he's going to be here and his schedule, and can set up the appointment time.
"They don't have to come in with a complete copy of their service treatment, medical records, but it would be helpful, especially for those about to be discharged from the military if they were to review their problem list," Gregory said. "They get a copy and review it just so they're aware of what's in there, and then come in with an idea of what they want to claim.
Also provide advice on how to submit documents to get them into the system.
When service members or veterans come in, it's helpful if they're aware of what they might claim.
"A lot of times the service member will come in and be uncertain about whether a symptom he or she is having is a disability, and that's something I've discussed through with them, because that's what I do in the States–disability decisions," Gregory said.
Gregory came to Stuttgart from the VA in Nashville, Tenn., with 11 years experience with the VA as an authorizer, the VA representative who makes the final review before the money and the letter go out. He's currently a rating specialist, one of the people who review medical evidence, service treatment records, personnel records and filters that evidence through the laws and regulations to decide if the veteran is entitled to compensation.
To set up an appointment with the VA OMSC, call ACS at 431-3362 or 07031-15-3362.