By U.S. Navy Lt. Jenna Quist, DISA-Europe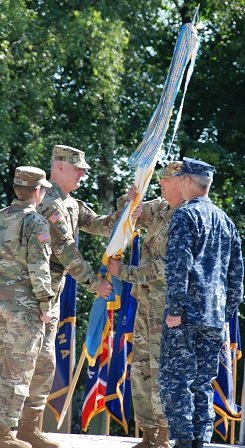 Col. Andrew S. McClelland took command of Defense Information Systems Agency Europe Field Command from the outgoing commander, Col. Jacqueline D. Brown during a change of command ceremony held July 8 on Patch Barracks at the Washington Square parade field.
DISA Director and Joint Force Headquarters Department of Defense Information Networks Commander Lt. Gen. Alan R. Lynn presided over the ceremony.  Family members, friends, colleagues, and service members were in attendance to bid farewell to the outgoing commander and welcome the new one.
Distinguished guests included Lt. Gen. William B. Garrett III, U.S. European Command deputy commander; Rear Admiral John W. Smith, EUCOM chief of staff; Brig. Gen. Norman L. Cooling, EUCOM J3 deputy director; Brig. Gen. Thomas A. Pugh, EUCOM J6-C4/Cyber; and Command Chief Master Sgt. Andrea Gates, DISA senior enlisted advisor.
McClelland comes to DISA-Europe from his previous assignment as the Network Integration Division Chief, at the Brigade Modernization Command, Fort Bliss, Texas.
Brown served as the DISA-Europe Commander for two years and in her next assignment, she will be serving on the Army Staff/G6 at the Pentagon.
Lynn is quoted saying, "over the past two years, Col. Brown has developed a strategic vision for DISA-Europe that aligns the European theater's operational missions with DISA's global priorities; ensuring mission partner operational capabilities are firmly aligned with the CCMD commanders."  He called Brown, "a strategic thinker who led the build out of the European theater's first cyber protection team," and acknowledged the accomplishments of the entire DISA-Europe team.
Lynn then discussed his high expectations and faith in the new commander. "He brings wealth of tactical, operational, deployment, and programmatic experience to the fight and he is the right leader at the right time and place to continue the mission of synchronizing and delivering critical capabilities to our mission partners."
During the ceremony, Navy side boys were used to honor the tradition of piping and ringing the official party 'aboard'.  The ceremony itself following Signal Corps tradition, was a silent ceremony using semaphore wig wags to relay commands to the troops.
McClelland is married to Kristine and has two sons, Jonathan and Kevin.